What Works for This Small Northern State May Make German History
By
Schleswig-Holstein's coalition is potential model for Germany

Angela Merkel said to be watching the Kiel experiment closely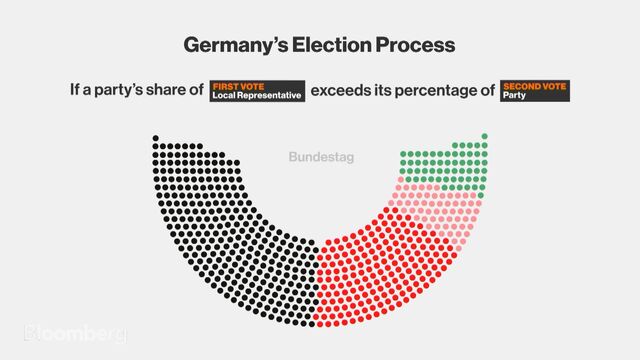 From his waterfront office, Daniel Guenther has a view of the passenger and cargo ships that leave Kiel bound for Norway, Sweden and east across the Baltic Sea to Lithuania and Russia.

Guenther's political outlook is similarly expansive, after he pulled off a feat that has Berlin looking to his small northern state for clues to Germany's future direction.
A member of Chancellor Angela Merkel's party, 44-year-old Guenther unexpectedly ousted the Social Democrats in state elections in Schleswig-Holstein in May. But it's what he did next that is attracting most attention. Unable to form a government alone, he forged a three-way hookup of his Christian Democrats with two traditionally incompatible parties, the business-friendly Free Democrats and the Greens.
It's only Germany's second-ever such coalition, and while the state government doesn't have to concern itself with thorny international issues such as policy for the euro area, Europe or the rest of the world, it's a model with some important admirers.
"The chancellor checked in regularly during the coalition talks to see what we were doing up here," Guenther, now the prime minister of Schleswig-Holstein, said in an interview in Kiel, the state capital. "And when I was able to tell her that the coalition was accomplished, she was pleased."

Schleswig-Holstein is a largely rural region that is home to fewer than 3 million people scattered between the medieval city of Luebeck -- once capital of the Hanseatic League of merchants -- via the island communities of North Friesland to Kiel, Flensburg and the border with Denmark. Party politics there used to be viewed as provincial and backward -- until the formation this summer of the "Jamaica" coalition, named after the colors of the three parties: black, yellow and green.
Merkel has a particular interest in this coalition, since it offers a potential template for the next federal government after national elections on Sept. 24. Polls currently all point to Merkel winning a fourth term, but with her options for governing limited to two possibilities: another grand coalition of the two main parties, or a Kiel-style arrangement.
Manfred Guellner, head of the polling institute Forsa, predicts that the Social Democrats under Martin Schulz will refuse to serve as Merkel's junior partner again if defeated, and "would probably rather go into opposition." As a result, a "Jamaica" coalition is the most likely outcome of the federal election, Guellner said in an interview.
Build your own German coalition: interactive guide
Unlike in the U.S., coalition governments are common in Germany. However, an alliance of Merkel's CDU, the Free Democrats and Greens is a step too far for many party officials because they are so far apart ideologically. Whereas the FDP is economically liberal and free market, the Greens stand for an eco-friendly, interventionist approach to policy making.
The Green party's leader in the state, Robert Habeck, who serves as energy minister, is skeptical such an exotic constellation could translate to Berlin. "I don't see our coalition as a blueprint for the national level," he said at a farm near Flensburg.

Guenther is more positive. He sees "finding a harmony" between ecology and the economy as the signature project of his administration to equip the state for the future. Thus the coalition will invest 500 million euros ($595 million) in ailing infrastructure while boosting financial support for alternative energy projects.
Such ambition shows that Jamaica is working so far, according to Guenther. "We have managed this in Schleswig-Holstein, so I don't know why it shouldn't also work at the national level," he said. If any leader can make such a coalition work at national level, it's Merkel, he said, citing her "pragmatic policy style" that can build bridges to other parties.
It's a style Guenther shares. Nominated to contest the state at the last minute in November after the original candidate dropped out, he was given no chance to win. Now he's seen as a rising star of the CDU, in no small part because Merkel knows well that her own rebound in the polls was helped by Guenther's surprise victory.
Dead in the Bath
Guenther managed to turn around the mood locally with a campaign that resembled that of his party leader: He presented himself as a pragmatic modern conservative no longer tied down by the CDU's old ideological constraints. That helped his image as a breath of fresh air in a state known for political scandals stretching back three decades to the death of former CDU state premier Uwe Barschel, who was found in the bathtub of a Geneva hotel in 1987.
Local FDP leader Heiner Garg remembers the dark days and attributes the change to a new generation of politicians in Kiel overcoming their old rivalries. While that's partly due to the parties being "much more relaxed and less ideological" than at national level, it's not beyond the realms of possibility that the Free Democrats and Greens could ally in Berlin, he said.
"I wouldn't close the door to talks from the very start," said Garg.
Before it's here, it's on the Bloomberg Terminal.
LEARN MORE