Photographer: Daniel Acker/Bloomberg
United Technologies Debt-Funded Deal Dings Credit, CEO Says
By and
Hayes outlines plan to use cash flow to pay down obligations

Takeover plan includes assuming debt, selling new securities
United Technologies Corp.'s credit grades may get cut as the company loads up on debt to help finance its $23 billion takeover of Rockwell Collins Inc.
"Our credit rating is going to be under pressure," Chief Executive Officer Greg Hayes said Tuesday in a phone interview with Bloomberg News. "We're going to need the cash flows from all of the businesses to start to pay down that debt."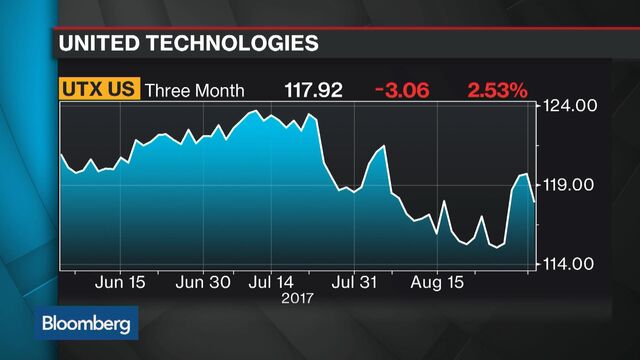 United Technologies will have about $50 billion of net debt when the deal is done -- up from about $17.3 billion at midyear -- but this will still leave the company with a strong balance sheet, Hayes said. "After a couple of years, we'll pay down a big chunk and then we'll take a look at the portfolio and decide what we want to do."
The borrowing will help United Technologies complete one of the biggest takeovers in aviation history and enable the combined aircraft avionics and parts company to push back harder on pricing against behemoths such as Boeing Co. and Airbus SE. United Technologies plans to use stock and cash for its purchase and take responsibility for $7 billion of Rockwell Collins debt. The cash portion will be financed with about $14 billion of new debt, according to a company presentation.
Quick Downdraft
Reaction from credit raters was swift, with Moody's Investors Service and S&P Global Ratings putting United Technologies on review for a one-notch downgrade. The company may have to increase "reliance on inherently uncertain earnings growth to moderate leverage," Moody's analyst Rene Lipsch said in a statement Tuesday, a day after the deal was announced. "The time to decrease leverage to United Technologies' current levels could be lengthy."
The debt funding for the deal is "onerous," GimmeCredit analyst Carol Levenson wrote in a report Tuesday. "Unless United Technologies finds a painless way to use some of its offshore cash, we estimate that its leverage would soar from 2.4 times to nearly 4 times, an all-time high."
Moody's currently has an A3 senior unsecured debt rating and Baa1 junior subordinated debt rating for United Technologies, based in Farmington, Connecticut. On the plus side, the deal will help profit margins and cash flows of the merged company, Moody's said.
"This transaction will stretch our credit metrics, and deleveraging to maintain strong investment-grade rating will remain very critical for us," Chief Financial Officer Akhil Johri said during a conference call Tuesday with analysts and investors.
Plans include suspending share buybacks for up to four years, limiting future acquisitions, selling assets and looking for ways to repatriate cash, he said.
"It's helpful that the company has communicated that it plans to suspend share repurchases for a considerable amount of time," Lipsch said in a phone interview. "If they follow through on that intention, it does show commitment that they intend to restore the credit metrics."
Before it's here, it's on the Bloomberg Terminal.
LEARN MORE