Korea Conflict Could Trigger Eventual Reunification, Fitch Says
By and
AA- is one notch below level based on financial metrics

Bill would be higher than the one faced by Germany in 1990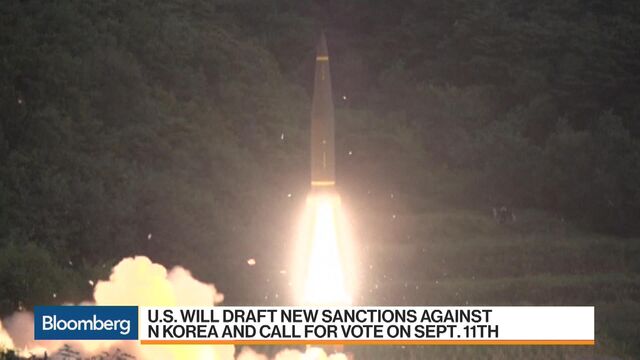 South Korea's sovereign credit rating "has explicitly factored in" a possible rise in the fiscal burden the government would face in the event of reunification, said Stephen Schwartz, head of sovereign ratings for Asia Pacific at Fitch Ratings.
"Nobody is talking about it today but it's certainly one of the scenarios that could follow heightened tensions going forward," Schwartz said in Hong Kong on Sept. 5. "One fallout from a conflict could be eventual reunification."
North Korea was reported on Sept. 5 to be preparing to launch an intercontinental ballistic missile after conducting its sixth nuclear test on Sunday.
Read: What U.S.-North Korea Hostilities Might Look Like
Though it's "too early to be more precise," he said reunification would involve "a significant fiscal shock to the South." He said lessons could be drawn from German reunification in 1990, though the cost for the North and the South was likely to be larger.
To reflect these risks, the agency set South Korea's rating at AA-, one notch lower than its model would predict solely on financial and credit metrics, he said.

Fitch last changed its rating for South Korea in September 2012 with an upgrade to AA- from A+. It has no plans to revisit the rating beyond its usual six- to 12-month cycle, Schwartz said.
"Beyond the risk factors already incorporated in our rating is 'event risk,' meaning that if circumstances warranted it a rating review could take place," he said. "But we do not currently expect this."
South Korea is rated Aa2 by Moody's Investors Service and AA by S&P Global Ratings.
Before it's here, it's on the Bloomberg Terminal.
LEARN MORE