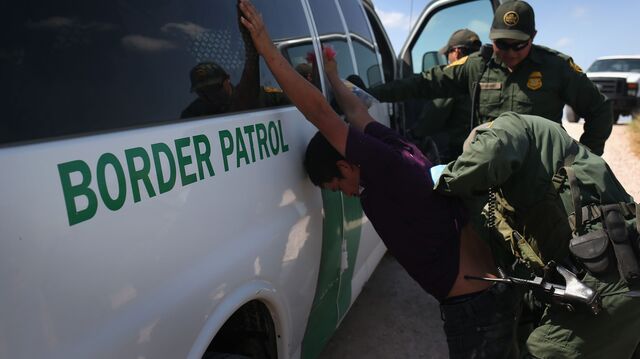 Tweeting "Congress, get ready to do your job -- DACA!" on Sept. 5, President Donald Trump said he was ending Deferred Action for Childhood Arrivals, otherwise known as the "Dreamers" program. That's the system President Barack Obama created in 2012 to shield young, undocumented immigrants from being deportation. Trump delayed implementing his edict for six months to give Congress time to craft a replacement. A week after his decision set off a legal, political and economic fracas, the president seemed to soften his stance at a White House dinner with Democratic leaders. While polls show most Americans support letting these immigrants stay, many Trump backers say ending the program is needed to protect rule of law.
1. Why is Trump doing this now?
The president promised during his 2016 presidential campaign to end DACA and 10 Republican state attorneys general threatened to sue the U.S. if he didn't follow through. The AGs, who'd set a Sept. 5 deadline, argued Obama had violated the Constitution's separation of powers by making a unilateral decision about immigration without Congressional input. U.S. Attorney General Jeff Sessions, who supports strict immigration law enforcement, had told Trump that the U.S. couldn't defend DACA if the states sued.
2. What is DACA, exactly?
It's a policy that allows certain undocumented immigrants brought to the U.S. as children before 2007 to apply for renewable, two-year permits that protect them from deportation and allow them to work legally. Applicants must have been less than 16 years old when they arrived and younger than 31 when DACA began in 2012. They must have no significant criminal record and be enrolled in high school or have a diploma or the equivalent. The program doesn't provide a path to permanent residency or citizenship.
3. Who is protected?
As many as 1.3 million people were immediately eligible, according to the Migration Policy Institute. Of those, about 800,000 have enrolled. Another 400,000 would be eligible if they met the education requirement. About 230,000 more are younger than the minimum age of 15, but will become eligible if they get a high-school diploma or equivalent. The vast majority are from Mexico, with smaller groups from Guatemala, El Salvador, South Korea and Honduras, among others. Most have no connection to their previous countries. Some didn't know they were undocumented until they sought drivers licenses or college aid. Current law makes it difficult for them to obtain legal status unless they leave the country and apply.
4. What happens to current Dreamers?
They'll be allowed to stay in the U.S. and keep their employment authorizations until they expire, unless terminated or revoked, according to the Department of Homeland Security. Those whose permits expire before March 5, 2018, can apply for renewal for as long as two years, but those applications must be filed by Oct. 5. Those whose permits lapse after March 5, 2018, can't renew them. No additional applications are being accepted while those pending by Sept. 5 will be considered on a case-by-case basis, according to the DHS. When DACA status expires, recipients' personal information won't be forwarded to immigration officials to aid in deportation, the agency said.
5. Were parents also protected?
No. A separate program, the Obama administration's Deferred Action for Parents of Americans and Lawful Permanent Residents, would have protected from deportation as many as 5 million undocumented immigrants whose children are U.S. citizens. DAPA, which would have granted a right to stay rather than citizenship, never took effect after a federal court in Texas blocked it, and the U.S. formally ditched it in April. Like DACA, the DAPA program was a presidential policy move, but wasn't created by a formal executive order.
6. What can Congress do?
The legislature can craft a law specifically protecting Dreamers or including DACA-like protection in a broader immigration reform bill that has eluded both parties for years. One of the most contentious issues is whether and to what extent such legislation should include a path to citizenship.
7. Are lawmakers likely to act?
It's unclear. After a Sept. 13 White House dinner, House and Senate Democratic leaders Nancy Pelosi and Chuck Schumer said they'd reached a tentative agreement with Trump to combine protection for Dreamers with added border security. Trump then tweeted that no deal had been reached, many details needed to be finalized and Congress would have to approve the package. Both parties have long supported the notion it's Congress's job to decide.
8. Did DACA cause a child-immigrant surge?
Trump claims DACA triggered a "massive surge" of undocumented children from Central America to the U.S. via Mexico in 2013 and 2014, some of whom joined violent gangs such as MS-13. It's true that tens of thousands of children surged across the southern border, many fleeing violence in El Salvador, Guatemala and Nicaragua. It's also possible they didn't know about, or misunderstood, DACA's requirements that participants had to be at least 15 years old, must have been in the U.S. by June 2012 and must have arrived in the U.S. before turning 16. It's more likely that child immigrants were drawn to the U.S. by another law, the 2008 Trafficking Victims Protection Reauthorization Act, signed by President George W. Bush, which required that child immigrants from countries other than Canada or Mexico should be promptly placed in a refugee resettlement program.
9. Did DACA result in job losses and lower wages?
The claim by Trump and the attorney general that Dreamers have taken hundreds of thousands of jobs away from natural-born citizens, isn't really backed by economic reality. It supposes, wrongly, that there are a fixed number of jobs in the world instead of a figure that changes as more people arrive in a given country, by birth or immigration. Not everyone agrees with that assessment, including George Borjas, a professor at Harvard University's Kennedy School of Government. Using labor economist David Card's study of the 1980 boatlift of about 125,000 Cuban immigrants, most of whom settled in Miami, Borjas suggested they largely took jobs away from locals rather than creating additional ones. Critics said Borjas made incorrect use of Census data. There is still no agreement.
10. What are employers saying?
Business leaders, particularly from the immigration-friendly technology industry, have warned Trump that ending the program would have economic and social consequences. Facebook Inc. Chief Executive Officer Mark Zuckerberg called Trump's decision "particularly cruel," while Microsoft Corp. President and Chief Legal Officer Brad Smith said the company is "deeply disappointed" by the move and urged Congress to quickly replace DACA with new legislation. In a blog post, Smith said Microsoft will provide legal counsel to any employee protected by DACA that the government seeks to deport.
11. Do Dreamers have any legal recourse?

Yes. Fifteen states and the District of Columbia sued Trump a day after the president's policy was announced. The suit by mostly Democratic-led states claims the policy violates the U.S. Constitution's Due Process and Equal Protections clauses, as well as the federal Administrative Procedure Act. The states, attempting to demonstrate discriminatory intent, included Trump's derogatory statements about Mexicans during the presidential campaign.
The Reference Shelf
Before it's here, it's on the Bloomberg Terminal.
LEARN MORE