House Readies Harvey Aid as Senate GOP Mulls Adding Debt Limit
By and
House plans Wednesday vote on nearly $8 billion for recovery

Debate comes amid need to avoid shutdown, default on U.S. debt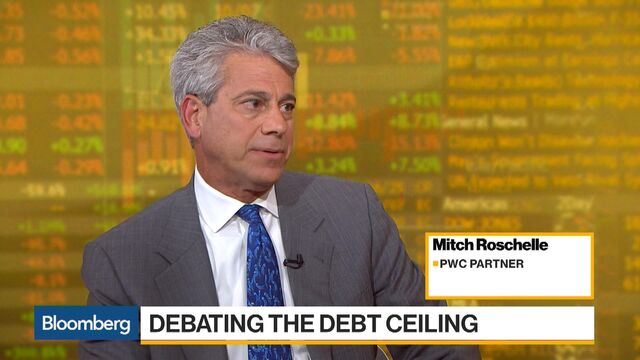 House Republicans are working to advance emergency funds for Hurricane Harvey this week while Senate GOP leaders may add a debt limit suspension to the measure when it reaches their chamber, according to two people familiar with the discussions.
Congress, back from its August vacation, has less than a month to avert a default on the nation's debt and avoid a government shutdown. The pressure of dealing with Harvey's destruction, possible more damage from Hurricane Irma and the North Korea crisis could make a fiscal fight less likely.
Lawmakers are also looking at adding a stopgap spending measure to keep the government open after Sept. 30 to a hurricane-debt limit combination bill, the two people said, but that may prove too complicated.
"We have three critically important things before us right now that we have to pass quickly," Senate Majority Leader Mitch McConnell said on the chamber's floor Tuesday, spelling out the need to provide emergency Harvey aid, keep the government funded and avoid a default.
Lawmakers must address the debt limit before the end of September. Republicans are now discussing a suspension of the limit rather than a specific dollar amount, according to the two people. Congress also needs to reauthorize programs like flood insurance and air traffic control and provide money for flood victims in Texas before they can turn to their top objective for the year -- a major tax overhaul.
Little Time
There isn't much time. The House is scheduled to be in session for only 12 legislative days this month and the Senate for 17 -- giving the majority party little margin for error on measures they will need to negotiate with Democrats.

There is already widespread bipartisan agreement on the need to fund disaster relief programs for Harvey. The White House has asked for nearly $8 billion in emergency aid, which the House is expected to vote on this week. Officials also signaled that President Donald Trump won't press his demands to fund a wall on the U.S.-Mexico border this month, a measure opposed by Democrats.
But other controversial executive actions on topics such as immigration could still disrupt bipartisan agreements.
How Republicans resolve these issues could influence the outcome of next year's congressional elections. If little is accomplished or the government is forced to shut down, Democrats will argue that the GOP can't get anything done, despite controlling all branches of government. If Republicans can get through the month without too much drama, they can turn more quickly to their promised tax overhaul.
Ryan and McConnell
House Speaker Paul Ryan of Wisconsin and McConnell of Kentucky have difficult tasks ahead as they contend with warring factions in their own party and a president who won't hesitate to criticize them. They'll also have to negotiate with Democrats who strongly oppose their biggest priorities.
"It's hard enough when you're working all together," said Muftiah McCartin, a former staff director of the House Rules Committee who now co-chairs government affairs at the law firm Covington & Burling LLP.
Republican and Democratic congressional leaders will meet with Trump at the White House Wednesday to discuss this month's agenda.
Their first order of business will be an emergency funding measure for Harvey. The White House requested $7.4 billion for the Federal Emergency Management Agency's operations and $450 million for the Small Business Administration. The request is intended to cover funding demands through the end of the fiscal year on Sept. 30. The House has already drafted a measure and is expected to send it to the Senate this week.
FEMA's funding challenge has been increased by Irma, a Category 5 hurricane that could strike Florida later this week. As of Tuesday, there was just $1.013 billion left in FEMA's Disaster Relief Fund, including $541 million immediately available for response and recovery efforts related to Hurricane Harvey. The other $472 million would be used to prepare for Irma and for Fire Management Assistance Grants.
"If it's down to $1 billion or less, then I would say there's a great concern," said Elizabeth Zimmerman, who until January was FEMA's associate administrator for the office of response and recovery. "Congress needs to take action very quickly."
Linking Debt and Harvey
The White House has suggested that lawmakers attach a debt ceiling measure to the Harvey bill, but the request stopped short of explicitly asking for that. Instead, White House budget director Mick Mulvaney suggested that relief operations could be disrupted if the debt limit isn't addressed quickly.
"If the debt ceiling is not raised, it may not be possible to outlay the requested supplemental appropriations or funds for other critical government operations," he wrote Friday night in a letter to Ryan.
It's unclear whether Republican lawmakers will go along with the idea of pairing the two measures. The Senate could add a debt ceiling provision to the Harvey bill after the House passes it, but House conservatives have demanded spending cuts or other cost-cutting changes in return for raising or suspending the debt limit.
Representative Mark Walker of North Carolina, who heads the conservative Republican Study Committee, on Monday said his stance hasn't changed.
'Kicking the Can'
"If we resort to just kicking the can down the road on the debt, it only shows that Republicans do not take the problem of our $20 trillion debt seriously," Walker said in a statement.
Republicans also need to pass a stopgap spending measure, which will likely extend current funding levels for a few months. Trump had threatened a shutdown fight over his border wall this month, but White House aides have signaled to Congress that he plans to delay that battle until lawmakers debate a fuller spending measure later in the year.
In some ways, the most urgent challenge will be preventing the government from defaulting on its obligations. Treasury Secretary Steven Mnuchin told Congress that it's "critical" to raise the debt ceiling by Sept. 29.
Conservatives in the past have opposed measures to allow the government to borrow more and may object if the debt limit is combined with other legislation. This week, they'll present Ryan with options that could win more GOP votes, including a bill to prioritize debt payments over other government expenses should the debt limit be breached.
"When it comes to raising the debt ceiling, it's my hope as a conservative that that would be packaged with significant spending reforms and other reforms that would address a $20 trillion national debt," said Jim Banks, an Indiana Republican.
Even staunch conservatives, such as David Schweikert and Trent Franks, both from Arizona and members of the far-right Freedom Caucus, have demonstrated a willingness to work within the constraints of the moment.
Not 'Intractable'
"I understand the reality and I'm not going to be intractable on recognizing leadership's realities," Franks said of this month's urgent bills.
If a debt limit provision isn't added to the Harvey bill, GOP leader could add it to the stopgap spending bill, which is also likely to contain necessary extensions for other expiring programs like federal flood insurance and the Federal Aviation Administration.
John Yarmuth of Kentucky, the highest ranking Democrat on the House Budget Committee, said Harvey's devastation has sapped both parties' appetite for a showdown over must-pass bills like the debt limit.
"There's a good chance that Harvey makes all that a little easier," Yarmuth said.
Yarmuth said appropriating money for cost-sharing subsidies for Obamacare, which Democrats considered demanding, will probably be left out of the discussion.
'Dreamers' Fight
Democrats could still disrupt this month's legislative agenda in response to Trump's plan to eliminate a program that provides some protection from deportation for undocumented immigrants brought to the U.S. as children. Trump will delay the end of the program, Deferred Action for Childhood Arrivals or DACA, for six months to give Congress the ability pass legislation to codify the protections President Barack Obama created.
"Congress, get ready to do your job - DACA!" Trump tweeted Tuesday morning as lawmakers returned to Washington from their August recess.
Another potential complication for September is the unresolved future of the Affordable Care Act after a Republican plan to repeal and replace the law failed in the Senate. If GOP leaders want to try again, they'll need to act this month as a legislative tactic they've used to try to win passage in the Senate will expire on Sept. 30. After that, Republicans would need to seek Democratic support.
And the clock is ticking on a Republican plan to overhaul the U.S. tax code. They'll take their first concrete step with a budget resolution that will allow them to get the overhaul through the Senate with a 51-vote majority.
Although the budget doesn't technically need a floor vote this month, every week that goes by makes it harder to meet the goal of tax code changes by the end of the year. GOP lawmakers warn that failing to pass tax legislation or other Republican priorities could cost the party its congressional majority.
"It's the party. It's the Republican brand," Representative Dave Brat of Virginia. "If the Republican Party can't pass health care, can't pass tax reform, can't be fiscally responsible what are we?"
— With assistance by Erik Wasson, Laura Litvan, and Christopher Flavelle
Before it's here, it's on the Bloomberg Terminal.
LEARN MORE