ECB Cast as Villain for Germany in TV Debate of Smaller Parties
By and
Anti-euro AfD slams ECB for 'illegitimate' cheap money policy

Faceoff follows Merkel-Schulz debate that failed to land blow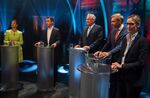 The European Central Bank came under fire in a second round of debate in the German election campaign, as smaller parties sparred less than three weeks before a vote that presents all but one of the participants with the chance of a place in coalition government.
A day after Chancellor Angela Merkel and her Social Democratic challenger, Martin Schulz, faced off in the campaign's only head-to-head televised debate, the leaders of the five smaller factions likely to win seats in parliament took the stage for a second installment. The anti-immigration, euro-skeptic Alternative for Germany party, or AfD, came out swinging, taking a hard line in targeting the Frankfurt-based ECB.
The central bank's "illegitimate policy of cheap money" is responsible for rising real-estate prices that are hurting average German voters, AfD candidate Alice Weidel told the round on Monday night, adding that her four-year-old party was the only one to channel German anger with the ECB. "This is the reason why the AfD exists," she said.
Merkel and Schulz have said little on the campaign trail on monetary policy, even as Merkel allies including German Finance Minister Wolfgang Schaeuble have cited the policies of ECB President Mario Draghi for whittling away the returns of average German savers. 
Fiery Debate
The AfD, which has mostly focused on blasting Merkel's refuge policy, advocates Germany's exit from the single currency and the abolition of the ECB. Merkel's Christian Democratic Union and the Social Democrats of Martin Schulz, her current coalition partner and main challenger, have ruled out any cooperation with the AfD.
The five-party debate was a more fiery affair than Sunday's confrontation between Merkel and Schulz, who broadly agree on policy in topics from the refugee crisis to Turkey and relations with the U.S. under Donald Trump. Polls show the AfD and the the anti-capitalist Left party, made up in part by the successor to the East German communist party, vying for third place in the Sept. 24 election.
The others in Monday's debate were the Greens and the pro-business Free Democrats, both potential coalition partners for Merkel or Schulz, and the Bavarian Christian Social Union, which campaigns and sits in parliament alongside Merkel's CDU.
Left candidate Sahra Wagenknecht countered the AfD argument, saying rising rents were rooted in the privatization of real-estate projects in German cities. Regular citizens no longer had access to affordable housing "because everything is about profit," Wagenknecht said.
Cem Oezdemir, a candidate for the environmental Greens, said that the AfD would inevitably blame European Union institutions for Germany's problems.
Before it's here, it's on the Bloomberg Terminal.
LEARN MORE