Congo Opposition Calls for Coalition to Force Kabila's Exit
By
Rivals accuse president of delaying vote to hold on to power

New poll scheduled for 2017 after Dec. 2016 deadline lapsed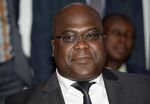 The Democratic Republic of Congo's main opposition leader said parties should unite to force President Joseph Kabila to leave as plans to set a new date for elections are delayed.
"Joseph Kabila is the sole obstacle on the way to the organization of elections in our country," Felix Tshisekedi, leader of the Rassemblement coalition, told reporters Tuesday in the capital, Kinshasa. "I launch an appeal to all anti-Kabila parties to mobilize themselves together to obtain his departure."
Kabila was supposed to step down at the end of his second term as president in December, but the vote for his replacement has been delayed, sparking protests. Under a political agreement struck Dec. 31, opposition parties accepted that he could remain in office if the vote was held this year.
Efforts to implement the accord have stalled and opposition parties are accusing Kabila of purposely delaying the vote to hold on to power.
Tshisekedi was appointed as the leader of the country's largest opposition coalition in March, succeeding his father, veteran politician Etienne, who died the previous month. Tshisekedi returned to Kinshasa on Sunday after spending several weeks in Europe. The Rassemblement had urged supporters to welcome Tshisekedi, but security forces were deployed to prevent them reaching the city's main airport, using tear gas to disperse crowds.
Kabila has ruled Africa's biggest copper, cobalt and tin producer since 2001. The nation has never had a peaceful transfer of power. 
While the government said Aug. 23 that the electoral commission had registered 95 percent of eligible voters, South African President Jacob Zuma, in closing remarks to a summit of the Southern African Development Community just three days before, said the meeting "noted it might not be possible to hold elections in December 2017" in Congo.
Before it's here, it's on the Bloomberg Terminal.
LEARN MORE