Photographer: Tomohiro Ohsumi/Bloomberg
Why BOJ Should Stop Being Obsessed With 2% Inflation Goal
By and
Central bank is too fixated with inflation target: Watanabe

BOJ needs to trim stimulus to create a buffer for future needs
The Bank of Japan should stop being obsessed with its 2 percent inflation target given prices and interest rates around the world remain subdued, says the former currency chief at the Ministry of Finance.
The world's third-largest economy has recovered enough for the central bank to scale back stimulus policy to give itself some room to maneuver should conditions worsen again, said Hiroshi Watanabe, president of the Institute for International Monetary Affairs in Tokyo. It could start by reducing its annual bond-purchase target later this year, he said.

"Just as an endless intravenous drip becomes ineffective, monetary policy should be changed to reduce stimulus once the economy is no longer facing any headwinds," Watanabe said in an interview last week. "This would create a buffer for future needs. There is absolutely no reason to deter such a decision by saying we have to wait for inflation to reach 2 percent."
The BOJ's debate about how and when to withdraw stimulus is being mirrored around the world as the major economies struggle to generate inflation even as they recover from the global financial crisis. The danger of policy makers being too slow to withdraw accommodation would be the creation of another round of bubbles, paving the way for another financial collapse.
While there aren't serious signs of overheating in Japan as yet, the BOJ will leave its hands tied if it doesn't become more flexible about its inflation targeting policy, Watanabe said.

Economic growth quickened to 4 percent last quarter and has stayed above 1 percent on an annual basis since the start of 2016. One of the most widely used measures of inflation -- core consumer prices excluding fresh food -- accelerated to 0.5 percent in July and has stayed above zero for seven straight months, even though it is still only a quarter of the BOJ's target.
Avoiding Deflation
The initial aim of the inflation target was to make sure Japan wouldn't fall back into a deflationary spiral but the target of 2 percent has become a problem, Watanabe said. Reducing the level of accommodation after confirming that prices are on an uptrend wouldn't be a deviation from an overall inflation target, he said.  
"The BOJ is caught on its own trap by insisting inflation has to exceed 2 percent on a consistent basis," Watanabe said. "It's wrong to say the BOJ must stick to what it has said in the past. The 2 percent target isn't legally binding, nor is it something the BOJ should strictly adhere to."
Japan's central bank pledged to maintain its program of asset purchases and yield-curve control at its July meeting after pushing back its forecast for when it would reach its 2 percent inflation goal for a sixth time. When the policy was introduced in April 2013, Governor Haruhiko Kuroda set a timeframe of two years.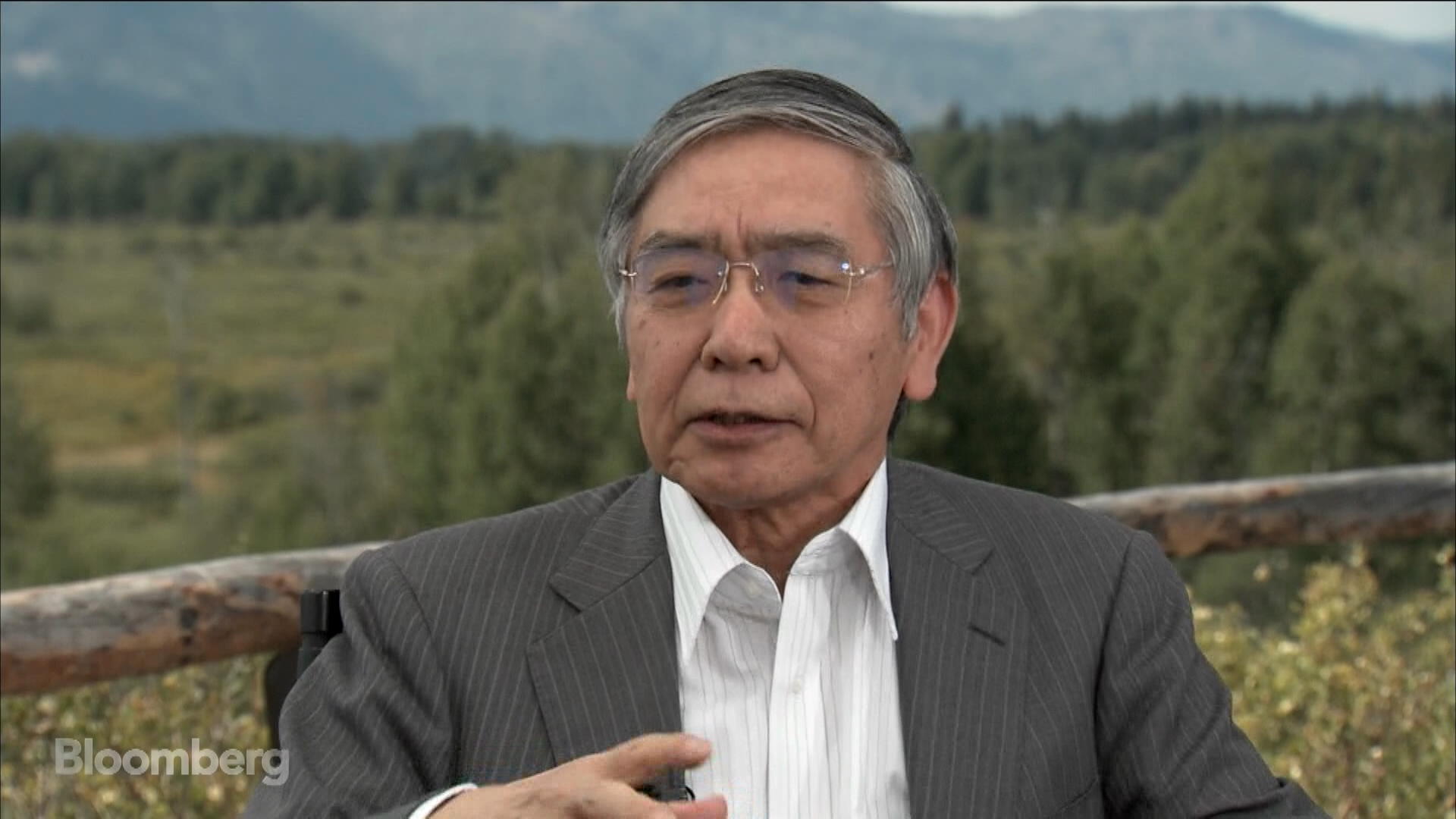 The BOJ can take its time to start raising interest rates or reducing liquidity, but it should decide in the near future to stop expanding asset purchases, Watanabe said. The central bank's annual pace of bond buying has slowed to around 60 trillion yen ($552 million) from its target of 80 trillion yen.
If Kuroda is given a second term, the BOJ may start reducing the target in April or May next year, while if it looks as though he will be replaced, tapering could begin later this year, Watanabe said.
'Keeping Pace'
"Japan can show it's keeping pace with others in the same direction, but it's difficult to argue that 2 percent is mandatory from a historical point of view," he said. Apart from the era of hyper-inflation in the early 1970s, Japanese inflation was quite subdued even in the bubble era of the 1980s, he said
Watanabe, who was vice minister of finance in the international affairs department from 2004 to 2007, said the yen and the Swiss franc are sought out by investors in times of risk aversion because of their relatively low volatility. Japanese authorities focus very closely on trying to limit the currency's fluctuations and keep it in a relatively narrow range, he said.
The yen traded at 108.69 per dollar on Wednesday, having moved in a range of 108.13 to 118.60 this year.
"There's no doubt the yen is regarded as having a relatively narrow trading range," Watanabe said. "It's true the yen is preferred for its relatively small volatility, thus there is a smaller risk of losses for those seeking to move money away from riskier places. But such buying is transitionary and not based on bets the yen will strengthen toward 105 or 102."
Before it's here, it's on the Bloomberg Terminal.
LEARN MORE