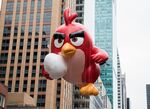 Rovio Entertainment Oy, the maker of Angry Birds, was supposed to be the mobile generation's Disney. Today, its ambition seems to be to grow prudently and allow long-term shareholders to cash out. It's perhaps refreshing to see conservatism in a mobile-technology IPO, but if there's one firm that could do with taking risks, it's Rovio.
The Finnish games maker announced its intention to list on the Nasdaq Helsinki stock market on Tuesday, a plan reported earlier by Bloomberg News. No financial terms were disclosed. The IPO will mainly consist of a cash-out by Rovio's biggest shareholder, Trema, accompanied by a small share sale of 30 million euros ($35.7 million) to retail and institutional investors. It's not clear yet what valuation Rovio will get for its business, though people familiar with the matter have pegged it at $2 billion.

What will investors get in return? We know that a $2 billion valuation would mean a $1.4 billion payday for Trema's Kaj Hed, according to the Bloomberg Billionaires Index. The 62-year-old's long-term investment in a family creation has paid off after some lean years, which saw Rovio shrink and restructure in the face of tough competition from the likes of Candy Crush and Clash of Clans. An extra 30 million euros in cash would also be a small yet useful buffer for Rovio to spend on marketing, user acquisition or new talent.

Yet there's not much here to chew on for incoming shareholders in terms of ambition. Rovio says the IPO would keep it on track to deliver its existing strategy, one that leans heavily towards milking the surprisingly durable Angry Birds franchise while funding new bets on the side. The problem is that the former may not be durable forever, and the latter may not bear fruit until 2019. This is still an Angry Birds-dependent company, which last year reported revenues around the 150-million-euro mark, or one-twelfth the level of rival Supercell Oy. Optimists will say there is plenty more growth to come, and it's true that Rovio's ability to adapt to a tough and competitive market has surprised everyone. But this feels like a well-traveled road.
Given the equity story on offer and the current value of rival Zynga Inc. --  which trades at around five times 2016 revenue -- the potential valuation seems rather lofty at around ten times revenue (a point Gadfly has made already). Rovio's cautious ambitions contrast heavily with Zynga's own plans when it floated in 2011, which included prioritizing long-term growth over earnings and making big bets on teams, games and infrastructure. That's a good thing on one level, given Zynga never delivered on that promise and its stock currently trades well below its IPO price. But it's a shame that, even in a cooler and less speculative market, the maker of Angry Birds seems to be content with clipped wings.
Before it's here, it's on the Bloomberg Terminal.
LEARN MORE