The Five Biggest Airlines Plunged 7.5% in August, Wiping Out $10 Billion in Market Value
By and
Reignited fare skirmish with heavy discounters is spreading

Delta trims third quarter unit revenue, margin guidance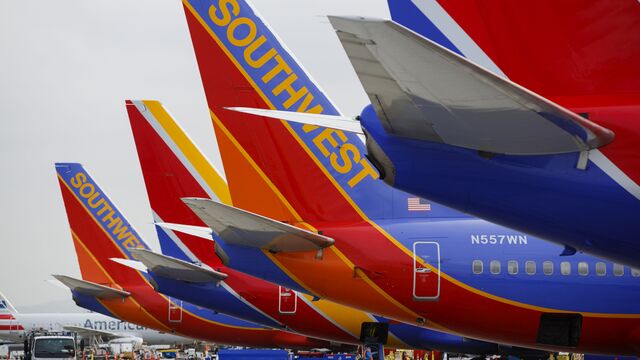 U.S. airline investors, already absorbing the worst monthly stock performance in a year, are bracing for more disappointment.
A Standard & Poor's index of the five biggest U.S. airlines plunged about 7.5 percent in August, wiping out about $10 billion in market value. Shares fell as a price war that started between United Continental Holdings Inc. and heavy discounters spread to more carriers and markets.
Analysts see more pain ahead. Three carriers, led by Delta Air Lines Inc., on Tuesday cut third-quarter guidance for revenue from each seat flown a mile, a closely watched gauge of pricing power known as unit revenue. UBS Group AG predicts the latest skirmish will force others to do the same. The trend is worrisome because the major airlines have been boasting that industry consolidation would lead to steadier profits and smoother shareholder returns, not repeated fare battles with low-cost rivals.
"We've taken it on the chin the last 30, 45 days, because there's no question United started cutting fares to ward off Spirit, Frontier, whoever, and I guess it's spread among all the airlines cutting fares," said Gary Bradshaw, a portfolio manager at Hodges Capital Management in Dallas, which owns stakes in the major airlines. "It happened overnight almost."
For more on the latest airline price war, click here
Hurricane Harvey, which shuttered Houston's airports for several days last week, will be another drag on earnings because of flight cancellations and a spike in jet-fuel prices.
Delta's unit revenue this quarter is now seen rising 2 percent to 3 percent, instead of the previous 2.5 percent to 4.5 percent. Operating margin is expected at 16.5 percent to 17.5 percent instead of as much as 20 percent earlier. Delta blamed "a slow recovery in domestic" ticket prices purchased close to travel and higher fuel costs linked to the hurricane a year earlier.
Lowering Outlook
JetBlue Airways Corp. lowered the range for its unit revenue in a regulatory filing Tuesday, citing the "current competitive industry pricing environment." The airline estimated the gauge will be down 1 percent to up 1 percent year over year, compared with a prior range of down 0.5 percent to up 2.5 percent. 
In its own federal filing, Spirit Airlines Inc. blamed a "broadening of aggressive competitive pricing" for deflating its third-quarter unit revenue, which now is expected to drop as much as 8.5 percent, more than double its earlier outlook for a drop of up to 4 percent.
Spirit fell 4.5 percent, while Delta declined 3.5 percent and JetBlue 3.3 percent at the close in New York Tuesday. The S&P airlines index dropped 2.8 percent.
United and Southwest Airlines Co. will probably have to cut their third-quarter unit revenue forecasts the most, said Darryl Genovesi, a UBS analyst.

The fare battle that started this summer between United and heavy discounters like Spirit and Frontier Airlines Inc. has since spread to others, including American and Southwest. The S&P airlines index has dropped more than 14 percent since June 30.
Industry pricing declined in July from the previous month, and August "appears to have deteriorated further," Cowen & Co. analyst Helane Becker said in a note, citing meetings with airlines last week. While carriers expect improvement in the last three months of the year compared with this quarter, "the pricing trends are currently not favorable." 
Hurricane Harvey
Hurricane Harvey is only expected to exacerbate the industry's woes. Jet-fuel prices jumped 26 percent from Harvey's Aug. 25 landfall in Texas through Sept. 1, after the shutdown of two pipelines carrying fuel and refined products from the U.S. Gulf Coast. Jet fuel usually is the second-largest operating expense for airlines, behind employee compensation.
Airlines "can truck in fuel, potentially look to other pipelines as a source, but that's another headache for the industry to try to deal with," Southwest Chief Executive Officer Gary Kelly said in an interview last week. While there's no immediate danger of a shortage, Kelly said he was "absolutely" concerned by the pipeline closures.
Some carriers are expected to use a Cowen transportation conference that starts Sept. 6 in Boston to update outlooks for third-quarter revenue for each seat flown a mile, most likely to the low end of earlier guidance, Becker said. Others may include updates on the gauge, known as unit revenue, in monthly traffic reports this week.
Optimist's View
The current price competition probably won't lead to a long downturn for the major airlines, said Sanford C. Bernstein & Co. analyst David Vernon. Many of the battles are on the most competitive routes, including New York to South Florida, that already had lower fares.
Wall Street "is looking at the most competitive part of the market and using that as an analog for the entire industry," Vernon said.
The advent of discounted "basic economy" fares should allow the major airlines to compete selectively with Spirit and others without lowering fares across a wide range of routes and price categories, he said.
Hodges is taking a bullish approach. Instead of cutting airline shares, the firm added to its position, Bradshaw said. He said that Delta boosted its dividend by 50 percent earlier this year, which suggests the airline is confident it won't be dragged down by a fare war.
"They're telling you that these earnings are going to continue to stay strong, continue to grow," Bradshaw said.
United currently expects unit revenue to be somewhere between down 1 percent from a year earlier to up 1 percent, while Southwest sees the measure up 1 percent. Investors were disappointed by both forecasts, made in July, and by Southwest's plan to grow more quickly than expected. United President Scott Kirby declined to comment on the unit-revenue outlook in an interview last week, but confirmed the carrier would provide an update this week.
American has said the measure will be up in a range of 0.5 percent to 2.5 percent from a year earlier.
Matching Discounts
American and United will continue to match heavily discounted fares at their hub airports, executives from both carriers said. Basic economy, which allows passengers to bring only a small carry-on item, helps dull the impact because airlines limit the number made available.
"We are going to compete against anyone that chooses to compete head-to-head against us," Kirby said in an interview last week. "That's the right strategy."
United's website Thursday showed a $50 one-way basic economy fare between Newark, New Jersey, and Fort Lauderdale, Florida, for a Sept. 7 flight. A round-trip economy ticket on the same route was $139.50 before tax, departing Sept. 7 and returning Sept. 12. Southwest offered a $122.38 round-trip price, excluding taxes and fees, on the same dates and routes. Deeply discounted fares have limited availability.
Before it's here, it's on the Bloomberg Terminal.
LEARN MORE