UN Urges Probe of Possible Burundi Crimes Against Humanity
By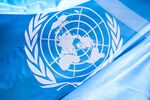 The United Nations asked the International Criminal Court to investigate whether human-rights violations committed in Burundi constitute crimes against humanity.
A probe by the UN Commission of Inquiry on Burundi found that the authorities in the East African nation committed crimes including extrajudicial executions, torture and enforced disappearances over the past two years, according to a report published on Monday. The perpetrators include "high-level officials" in the National Intelligence Services and the police, the commission said.
The commission wants the International Criminal Court to open an investigation "as soon as possible." It's findings were based on several months of investigations that involved interviews with more than 500 witnesses, it said.
Landlocked Burundi has been roiled by violence that's left hundreds of people dead and forced more than 400,000 to flee their homes since April 2015, when President Pierre Nkurunziza announced he was seeking a third term. Opposition parties said his re-election violated a two-term limit set out in accords that ended a civil war. A crackdown on protests was followed by sporadic attacks on military and government officials.
Burundi's government rejects the commission's findings, Willy Nyamitwe, senior press adviser to Nkurunziza, said by phone from the capital, Bujumbura.
"They want to change the regime in Burundi and the West is behind that," he said. "They are mercenaries," he said, referring to the UN commissioners.
Before it's here, it's on the Bloomberg Terminal.
LEARN MORE