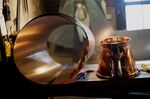 What is sustaining copper on its seemingly inexorable march toward $7,000 a metric ton? It's worryingly hard to say.
The metal has gained 48 percent over the past year, a standout performance that's the best by some margin of the London Metal Exchange's main industrial metals. Bulls seem to think it has further to go: Investment funds' net long position in Comex copper was a record 125,000 contracts as of Aug. 22, according to regulatory data released Friday.

Ask for the motivations underpinning this bull market, though, and the answers become oddly vague. It's something to do with economic growth or supply crackdowns at Chinese smelters, or perhaps at mines in New Guinea and the Andes. Then again, maybe it's all down to dollar weakness.
These are the pat answers that brokers and pundits tend to come up with when trying to account for market activity we can't otherwise explain -- but they don't withstand close analysis.
Take the growth argument. There's something to be said for it, to be sure: The JPMorgan Global Manufacturing PMI, a popular forward indicator for industrial activity, clocked in at 53.1 in August, the highest since 2011. The idea that stronger gross domestic product mathematically means higher copper prices -- the "Dr. Copper" theory -- is a hard-wired market heuristic that makes a lot of intuitive sense.
At the same time, there's reason to doubt it. For one thing, copper's relationship with growth is anything but simple. China has about the same GDP per capita as Brazil, but uses five times more copper per unit of growth; the United Arab Emirates is roughly on a level with France in terms of wealth, but uses 13 times more copper.

Instead of looking at growth indicators, a better way of gauging the strength of copper demand might be to actually look at copper demand. On that front, the prognosis is disconcerting: Global consumption has been falling on an annual basis for most of the past nine months, while supply growth has been close to its fastest since 2014.
That soft picture is supported by copper premiums, the prices that major consumers are prepared to pay over market benchmarks to secure long-term contracts. Given the excitement in the markets, it's notable that these are only moderately elevated in Asia, and in weak territory in the U.S. and Europe.
Futures curves paint a similar picture. The cash-to-three-months spread, which turns strongly positive when fundamental demand causes consumers to pay over the odds for quick supplies, is continuing its march downward from the bull market days of 2014. The $37 discount for cash metal on July 19 was the sharpest contango 1 on that measure since 2013.

There's probably more justification for the currency explanation -- but even then the momentum looks unwarranted. The Bloomberg Dollar Index is trading around its weakest levels since the start of 2015, a time when the Federal Reserve had just completed its third and final round of quantitative easing. Expectations of further U.S. rate rises are only being pegged back, not reversed.
Against this somewhat negative picture stands the market's unerring strength. Copper bulls have done well out of the past year's markets; those, like Gadfly, who've questioned the sustainability of the boom can't claim a strong predictive record.
Investors' expectations appear undimmed, to judge by technical indicators. The relative strength index for LME copper has been above 70, the level that's considered to represent "overbought" conditions, for all but one of the past 29 days. Over the past 30 years, the occasions when copper's RSI has been in that zone for more than about a week can be counted on the fingers of one hand.
There's a risk in that strength. Traders don't buy copper because they love the metal, but because they expect prices to rise. When it does, they can be expected at some point to sell.
That makes the Comex bets a potential time bomb. As of Aug. 15, funds' net long position stood at 120,175 contracts, equivalent to more than 93 percent of open interest on that date. Those investors have made a 9.2 percent gain over the past three weeks. 

With LME futures breaking through $6,900 a ton Monday for the first time in three years, watch out for the moment they try to take profits.
Before it's here, it's on the Bloomberg Terminal.
LEARN MORE