Taiwan Premier Quits as Tsai Seeks Reset Ahead of Election Year
By and
Lin Chuan's departure sets stage for government shakeup

Tsai looks to rebuild support after bruising policy fights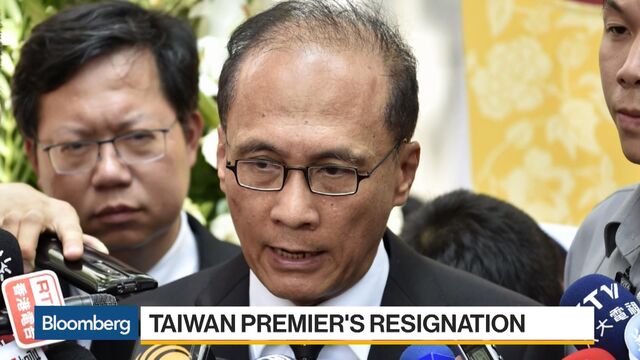 The resignation of Taiwan's premier sets the stage for a broader reshuffle and provides President Tsai Ing-wen a chance to raise her poll numbers ahead of local elections next year.
Premier Lin Chuan, who had been seen as Tsai's chief economic policy architect, said Monday he told the president Sunday he would resign after passing key pieces of the administration's agenda. Lin, 65, said he had never planned to stay on and wanted to give his successor time to prepare before local elections late next year.
"We couldn't wait until the end of 2018 to make the change," Lin said. "This way the new premier has a chance to prove themselves."
Tsai's office said in a text message that she had accepted Lin's resignation and would discuss the premier's post at an 11:30 a.m. news conference Tuesday. "Lin has created a solid foundation for the success of the new cabinet," the Presidential Office said.
Since Taiwan's premier appoints most of its cabinet ministers, Lin's resignation was expected to trigger a full reshuffle. The Central News Agency reported that Tainan city Mayor William Lai was expected to be Lin's successor.
Tsai has seen her approval rating sink below 30 percent amid tensions with China and a series of difficult policy fights after her Democratic Progressive Party secured control over the executive and legislative branches last year. The DPP, which promised to revamp the island's sluggish economy and reduce its dependence on China, faces its first test in local elections in late 2018.
The benchmark Taiex gauge slipped 0.2 percent to 10,569.87 on Monday amid regional concern over U.S. President Donald Trump's potential response to North Korea's weapons development. The Taiwanese dollar gained 0.2 percent to NT$30.105 against the U.S. dollar, the strongest in almost three months.
Limited Impact
"Impact on markets from Lin Chuan's resignation is limited, as it's going to be the same ruling policy, and major policies are likely to stay on course," Huang Wen-ching, vice president of Taishin Securities Investment Advisory Co., said by phone. "Investors will be watching who'll head the economy-related ministries, including the finance ministry. Policies we'll monitor include the tax reforms, the energy policy, the workers' holidays and special infrastructure plans."
A former finance minister who never joined a political party, Lin was seen as a key driver of Tsai's economic agenda. He had faced a steady stream of calls for his resignation, from those among Tsai's own pro-independence party, as well as opponents to her pension and labor reform packages.
Lin said he wouldn't be accepting any more full-time government jobs. He was among candidates tipped to be Taiwan's next central bank governor in a Bloomberg survey of economists last month.
Naming Lai as premier would also make it more difficult for the Tainan mayor to challenge Tsai when her own term comes up for renewal in 2020, said Edward Chen, distinguished chair of Chinese Culture University's political science department. Lai is a member of the DPP.
Election Concerns
"Lin isn't a DPP member and isn't popular among some of the ruling party," Chen said. "His cabinet failed to give much of a lift to Tsai Ing-wen's approval rate."
Lin helped secure passage of proposals limiting workweeks to six days and creating a special NT$107 billion ($3.5 billion) infrastructure budget, and slashing pension benefits for police, veterans and civil servants. His departure comes less than three weeks after Taiwan's economy minister stepped down after a blackout left 6 million households without power and questions about Tsai's plan to phase out nuclear power.
"The outages hurt investment confidence, triggered criticism from businesses and even academia," Concord Securities Co. Assistant Vice President Allan Lin said by phone. "If the power supply remains in such a condition next year and the year after, it's going to be worrying."
Last month, Taiwan upgraded its economic growth forecast for the year and signaled confidence for 2018, crediting a strong exports outlook. The statistics bureau revised its estimate for 2017 gross domestic product to 2.11 percent, up from the previous projection of 2.05 percent in May.
— With assistance by Yu-Huay Sun
Before it's here, it's on the Bloomberg Terminal.
LEARN MORE