Populist Hopeful Shunned by Italian Elite on Shores of Lake Como
By
Five Star's Di Maio, 31, sets out proposal for euro referendum

Illy chief says 'only someone that young' could suggest it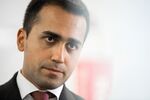 Populist would-be premier Luigi Di Maio had an awkward introduction to the Italian elite.
The Five Star Movement's most likely candidate for next year's election was ignored by Italy's business and financial establishment when he arrived at an exclusive networking event by Lake Como on Sunday. Di Maio, 31, was reduced to posing for photographers, while a passing banking executive muttered that he hoped the populist might learn something from his visit.
His group, which wants a referendum on Italy's euro membership, is virtually tied in opinion polls with the Democratic party of ex-premier Matteo Renzi, and with a possible center-right alliance including the Forza Italia party of Silvio Berlusconi. Di Maio sought to reassure.
Those opinion polls -- as well as the possibility of a hung parliament -- are prompting fears of political instability and financial turbulence with elections due by late May, even as the third-biggest economy in the euro area recovers from its worst recession since World War II.
"We don't want a populist, extremist or anti-European Italy," he told the Ambrosetti Forum in Cernobbio, in a bid to win round his skeptical audience. The euro referendum plan is simply "a last resort," he added, to force reforms of the European Union and "a currency tailor-made for the German economy."
The proposals of Five Star, co-founded by ex-comic Beppe Grillo, also include a monthly 780-euro "citizen's income" for the poor and the jobless, purging private lenders from control of the Bank of Italy, and tougher penalties for managers of bankrupt banks.
"We want to stay in the EU and discuss some of the rules which are suffocating and damaging our economy," Di Maio said. "And the money we're giving the EU budget every year must be one of the themes to put forward to the other countries."
Elite Anger
Many of those ideas were anathema to those debating world affairs at the luxury Villa D'Este hotel -- a five-star institution with which the assembled ruling class was altogether more comfortable.
Angel Gurria, secretary-general of the Organization for Economic Cooperation and Development, suddenly raised his voice when asked in an interview about the impact of Italy leaving the euro.
"Italy will not leave the euro, I won't even hypothesize about that," he said. "If anything, the euro is seeing more countries trying to join, rather than trying to leave. Let's not create ghosts, let's address real issues."
Investor Concerns
For some of those responsible for the funding that Italy needs to attract, the risk of a Five Star victory is precisely the issue they want to understand.
"Five Star is a big concern for me as an investor, it's one of the fault lines of Europe," Jim McCaughan, who oversees more than $400 billion as chief executive officer of Principal Global Investors, said on the sidelines of the annual forum. "Right now the market is being quite complacent, assuming that Italy will stay with the European ideal and stay in the euro. But any hint this isn't true could lead to instability."
McCaughan argued that after seeing populists defeated in elections in France and the Netherlands this year, and with Angela Merkel holding a commanding lead before the vote in Germany this month, Italy is the main source of political risk within the euro area.
Remember the Lira
That's a common view among analysts, but it riles Italian Prime Minister Paolo Gentiloni all the same.
"Italy cannot be described as a black sheep in a European flock of great government stability," Gentiloni said in his speech to the conference. "If I look at the six leading European economies, I tell you -- without naming names -- that most of these have fragile majorities."
Di Maio has long been groomed by party co-founder Grillo as its candidate for the premiership, a position that is likely to be confirmed in an online vote of the movement's supporters later this month. As for the premiership, he's already ahead of his potential rivals in the personal popularity stakes. A survey by the Piepoli Institute published in newspaper La Stampa on Sunday credited him with 24 percent backing, ahead of both Gentiloni and Renzi.
But Di Maio made few friends in Cernobbio.
"Only someone that young, who doesn't remember the inflation and the devaluations we had with the lira, can come up with his ideas on the euro," said Riccardo Illy, chairman of Gruppo Illy Holding. "It was a ghastly time for Italy, we made fools of ourselves."
— With assistance by Flavia Rotondi, and Sonia Sirletti
Before it's here, it's on the Bloomberg Terminal.
LEARN MORE