Top EU Lawmaker Floats Sept. 21 Date for May's Big Brexit Speech
By , , and
EU Parliament Brexit coordinator Verhofstadt sees rescheduling

Delay due to 'important political intervention,' he says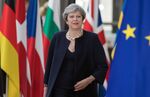 A senior European lawmaker appeared to let slip the date of U.K. Prime Minister Theresa May's big Brexit speech by alluding to "an important intervention" expected Sept. 21 that would push back talks.
The surprising revelation came from the European Parliament's Brexit coordinator, Guy Verhofstadt, speaking to lawmakers in Brussels on Monday. "Apparently there will be an important intervention by the British prime minister in the coming days, foreseen on Sept. 21, and then it's a little bit stupid that there is this mixed with the negotiation round," Verhofstadt said.
A U.K. official speaking on condition of anonymity to discuss private deliberations said the date indicated by Verhofstadt, a former Belgian prime minister, is incorrect and when and where haven't been decided.
May is due to give a much-anticipated speech on Brexit this month as a follow-up to the one in January in which she first unveiled her vision for the separation in language that was seen as hard and uncompromising.
Seven months on, the political realities on the ground have changed after she lost her parliamentary majority, and her government has shown more willingness to compromise on areas such as a transitional deal and financial settlement. Observers will be scrutinizing her words for a change in stance as well as tone.
Talks Deadlocked
The possible delay comes after three rounds of plenary talks between the British and the EU delegations in Brussels failed to break the deadlock over the terms of the U.K.'s withdrawal from the bloc. A final session is foreseen in early October before the 27 remaining governments of the EU decide on whether sufficient progress has been achieved on separation issues to allow for trade talks to begin.
Even though there's some convergence between the two sides on peripheral issues related to citizens' rights after 2019 and the management of Irish border, there's virtually no movement when it comes to the thorny issue of the financial settlement, Verhofstadt said. Insufficient progress means that negotiations about the future trade relationship can't begin, he said.
After last week's failure, the next round of talks was scheduled for Sept. 18, followed by another one on Oct. 9, before EU leaders convene in Brussels on Oct. 19.
— With assistance by Ian Wishart
Before it's here, it's on the Bloomberg Terminal.
LEARN MORE