Japan Must Hold Line on Social Spending, New Labor Minister Says
By and
Will proceed based on assumption sales-tax is hiked in 2019

Supports socially responsible investment by government fund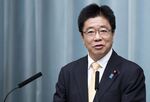 Japan needs to hold fast in limiting the rise in social welfare spending, Minister of Health, Labour and Welfare Katsunobu Kato said in an interview with Bloomberg News. 
To meet a spending limit set in fiscal 2015, Kato said he wants to adhere to a 500 billion yen ($4.6 billion) cap on increases in social welfare spending next year, the same as in the past two years, but the ministry estimates that 630 billion yen will be needed to meet the costs of an aging population. 
"We have to secure funds to meet people's needs but funding isn't limitless," Kato, who was appointed during a Cabinet reshuffle in August, said on Friday. "It's our job to establish a balance" between meeting people's needs and restraining spending.
Paying for spending on social services is an enduring challenge for Japan, which struggles with one of the world's oldest and fastest-aging populations and the largest public debt burden, more than twice the size of the economy. Welfare spending continues to grow and so does the debt, especially on a per capita basis.
In fiscal 2015, the government's main policy objectives included capping growth in social security spending at 1.5 trillion yen over three years, roughly the cost caused by population aging during the period. 

Kato expects the 2018 budget to include policies aimed at boosting productivity and wages, especially the minimum wage. He also wants to address Japan's longstanding shortage of child-care services, and the ministry has asked for more money to do so.
"Unfortunately, there are still waiting lists at child-care centers," he said. "I would really like to secure funds in the budget to deal with this problem."
Prime Minister Shinzo Abe has twice postponed a planned sales-tax increase to 10 percent, but Kato said he and the ministry will move ahead on the assumption that the tax will be raised as scheduled in 2019.
Responsible Investing
Kato spoke favorably about the Government Pension Investment Fund's recent moves toward socially responsible investing. Kato's ministry entrusts funds to the GPIF, which then contributes profits from its investments to government pension plans.
The fund announced in July that it would invest in equity indexes with environmental, social and governance requirements, and that it wants to increase its allocation to such assets.
"Things like measures for the environment, or encouraging more female participation, these are socially desirable," Kato said. "I think it's one of the roles of the GPIF, which to be responsive to what people want."
Before it's here, it's on the Bloomberg Terminal.
LEARN MORE