Politics
Black Ops, Fake News and a Real Punch Muddle Ukraine Graft Fight
By and
Hollywood actor's 'prank' video adds to pressure on watchdog

U.S.-funded crusader facing jail for hitting relentless troll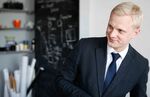 An American actor who's appeared in movies starring Leonardo Di Caprio and Tom Cruise has landed an unwitting role in a real-life thriller about the grinding struggle against graft in Europe's most corrupt country.
Michael-John Wolfe, who makes personalized newscasts for birthdays and other events as a side gig, said he had no idea that a video he was paid to shoot suggesting Ukraine's leading anti-corruption campaigner embezzled U.S. funds would be posted on YouTube and cited by opponents in Kiev as the real deal.

"I thought it was a prank," Wolfe said by email, adding that he only knows the screen name of the person who hired him on Fiverr, an online marketplace where he charges $50 to orate 150 words. "I've been doing these newscasts since 2011 and never had a problem before. I apologize if anyone was hurt."
With just 16,000 views, Wolfe's video is the least of Vitaliy Shabunin's worries. The founder of the U.S.-funded Anti-Corruption Action Center, whose work is critical to unlocking billions of dollars of aid for Ukraine's cash-strapped government, has become a lightening rod for entrenched interests in a nation where runaway corruption sparked two revolutions in the space of a decade.
'They're Hunting Us'
Shabunin, 32, has been under relentless pressure since March, months after an initiative he championed -- mandatory asset disclosures by officials -- came into force, angering everyone from prosecutors and politicians to tax authorities and even the security services.
The revelations of million-dollar bank accounts, mansions and luxury goods sparked outcry from a public that already considered rampant graft more menacing than Russia. Ukraine's neighbor annexed Crimea from it in 2014 and continues to support a simmering insurrection in the industrial east that's claimed 10,000 lives.
"They're hunting us because we closely oversee the fight against graft and pressure the government," said Shabunin, who's served on the public council that monitors the anti-corruption bureau the government had to create under its $17.5 billion bailout from the International Monetary Fund. A mission from the Washington-based lender will visit Kiev this month to assess, among other things, progress on tackling graft.
Shabunin, a former councilman from the western city of Rivne who's at turns jovial and resolute, spoke in an interview in Kiev after another video surfaced that's far more damaging than Wolfe's fake newscast. It shows him finally losing his temper and punching a self-proclaimed independent journalist who'd been stalking him with a camera and trolling him online for months.
Right Cross
The June clip of the activist dropping the agitator, Vsevolod Filimonenko, with a quick right cross while wearing a backpack and clutching a sports jacket has been viewed 90,000 times. It's now evidence in an assault probe that carries a maximum penalty of three years in prison.
"I hit a person who was haunting my team," Shabunin told reporters after his Aug. 16 hearing. "I am prepared to bear responsibility for that."
Shabunin's supporters, including Semen Semenchenko, a lawmaker who's fought against Kremlin-backed militias in the east, said it's absurd that a crusader for clean government is facing jail time for striking a known extortionist. Before the uprising, Filimonenko was fired from an election-monitoring watchdog in his native Luhansk, one of two regions now partly held by rebels, after he was recorded soliciting a $3,000 bribe from a local official.
Filimonenko, who managed to shoot Shabunin in the face with pepper spray after getting up off the floor, denies corruption back in Luhansk. While he doesn't want Shabunin to go to prison, he said bloggers and journalists should be free to work and should receive compensation if they're attacked and injured.
'Political Hitmen' 
Filimonenko is an aide to Serhiy Melnychuk, a lawmaker who was stripped of his immunity for alleged ties to organized crime, which he denies. Semenchenko, who's fallen out with Melnychuk in the past, said in televised remarks that Filimonenko and his boss are "political hitmen." Semenchenko says the pair do the bidding of the military's top prosecutor, Anatoliy Matios, who was reprimanded for exceeding his authority by trying to draft Shabunin into the army.
Calls to Melnychuk's office and staff went unanswered. Matios, who was also unreachable by phone and via Facebook, slammed Shabunin on the social network in July, calling him a "journalist-beating conscription-dodger."
Shabunin was on his way to a military recruitment center when the altercation with Filimonenko occurred. He was there to contest a draft order Matios's office issued challenging a medical deferment that exempts him from army service, the potential pool for which was expanded after the rebellion erupted in 2014.
Three conscription officers and a camera crew showed up at Shabunin's house to deliver the summons on his daughter's birthday in June, a week after his center filed a lawsuit challenging Matios's decision to ban outsiders from viewing his and his staff's asset declarations. Matios's 2016 filing showed he owned multiple homes and had $600,000 in cash.
Unhappy Public
"The state isn't fighting against corruption -- it's fighting against those of us who are," said Ruslan Ryaboshapka, a former official in the National Corruption Prevention Agency, the state body that oversees the declarations.
Ryaboshapka said he quit the agency a month after the European Union granted Ukrainians visa-free travel, in part as a reward for making progress on curbing graft. The waiver was a major victory for President Petro Poroshenko, who's since shown little appetite for accelerating the cleanup.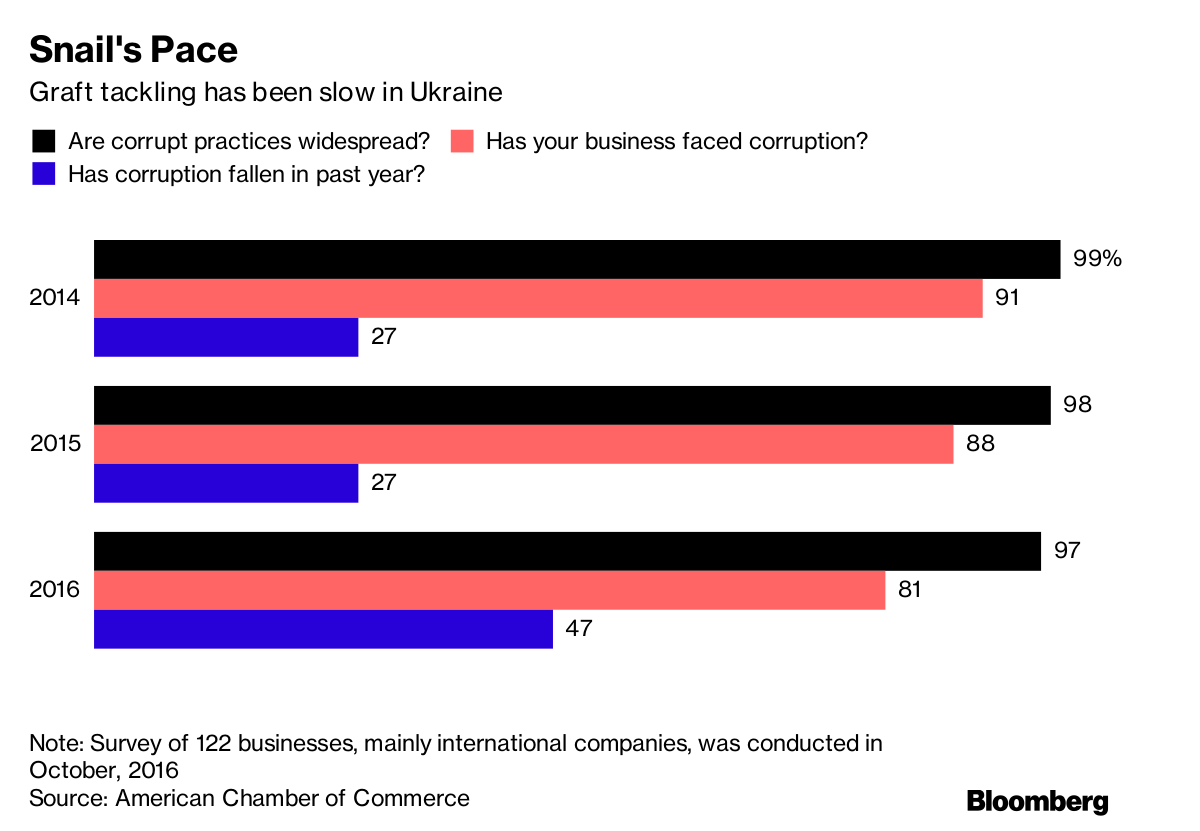 Poroshenko, a candy billionaire whose approval rating has been as low as 4.4 percent, has yet to fulfill a pledge to sell his holdings. He made that promise three years ago during his campaign to replace Viktor Yanukovych, who fled to Russia amid the popular uprising. Polls have shown almost 90 percent of the public views the fight against graft a failure and two-thirds are prepared for the kind of protests that brought down past governments.
The president's press service declined to comment on the campaign against Shabunin, as did the Prosecutor General's Office.  In a move labeled revenge by activists, parliament in March imposed the same asset-declaration requirements on NGO staff as officials. Poroshenko signed the new rules into law. 
American Support 
The black ops against Shabunin began to intensify after the EU visa deal. The Anti-Corruption Action Center accuses the State Security Service, or SBU, of tapping its employees' phones and sharing their movements with people who're either paid or coerced to harass them. It also says an SBU officer organized a protest outside his house on a Sunday morning in late April with placards making the same claims as Wolfe's anonymous scriptwriter.
An SBU spokeswoman, Olena Hytlyanska, denied both allegations, saying by email that the service "doesn't have the desire or legal grounds to get distracted by some ambitious politicians or civil activists."
The U.S. Embassy in Kiev has come to Shabunin's defense, saying via Twitter that the Anti-Corruption Action Center has accounted for every dollar of aid and that it's "proud" to be the watchdog's partner. But that did nothing to dissuade tax authorities from continuing an investigation into the group's finances.
"We're the main obstacle to rolling back anti-graft reforms," Shabunin said in the interview. "So authorities are seeking to discredit us, to undermine our support among Ukrainians and the international community."
Before it's here, it's on the Bloomberg Terminal.
LEARN MORE