UniCredit Committed to Turkey in Central, East Europe Plan
By and
Mustier ready to put more capital into Yapi Kredi if needed

Plan based on organic growth, after 2019 all options are open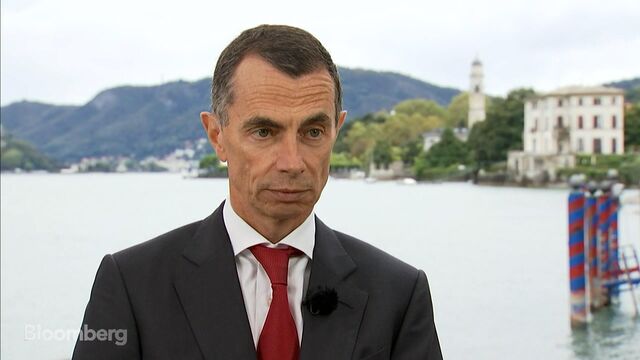 UniCredit SpA Chief Executive Officer Jean Pierre Mustier is willing to invest more money in Turkish venture Yapi & Kredi Bankasi AS as he sees the presence in central and eastern Europe as "a growth engine" for Italy's biggest bank.
"Yapi Kredi is growing and so growth means that there is an organic capital generation," Mustier told Bloomberg Television in an interview at the Ambrosetti Forum in Cernobbio, Italy. "If growth means that we need to put more capital at one stage we'll do it, but everything at the time and for the moment we are happy with what the bank is doing."
UniCredit bought into Yapi Kredi with Koc Holding AS in 2005  when the Milan-based lender was expanding in eastern and southern Europe. The partners, which own a combined 82 percent of the Turkish bank, are weighing a capital increase of about $1 billion for the unit to strengthen its buffers, people familiar with the matter told Bloomberg News in July. The Italian bank was still seeking support from the Koc family and no final decision has been made, they said at the time.
"Our Turkish bank is performing very well and we have a very strong partnership with the Koc family," Mustier said. "I was actually a few weeks ago meeting with the Koc family in Turkey and we are very happy with the development of Yapi Kredi."
International Operations
Mustier, who is targeting 4.7 billion euros ($5.6 billion) of net profit in 2019, has scaled back some international operations since he took over a year ago. He sold Poland-based Bank Pekao SA, reducing the bank's presence in Europe to 14 countries. Still, UniCredit remains among the biggest banks in central and eastern Europe, drawing about 21 percent of its revenue from businesses in the region, according to the lender's accounts.
"The UniCredit presence in CEE is a strong point for the bank, given the current positive macroeconomic environment," said Jacopo Ceccatelli, CEO of Marzotto SIM SpA, a Milan-based broker-dealer. "Their willingness to remain there and develop local business is coherent with Mustier's strategy."
The central and eastern Europe division was the largest contributor to second-quarter profit, with net income up 9 percent to 495 million euros. While UniCredit's strategic plan through 2019 doesn't include any more disposals or acquisitions, Mustier showed a more open approach for the future.
"Our plan is an organic plan, we are going to push and develop the activity on the purely organic basis up to the end of the plan. And post 2019 all options are open and we see what are the best alternatives," he said without elaborating.
"We have already progressed very well in terms of transformation," cutting branches and reducing workforce, said Mustier. "We are at kilometer seven of a marathon. We still have a long time to go and a long run ahead of us."
Mustier in December presented a three-year "transformation plan" that included a record 13 billion euros rights offer, successfully completed in February to boost capital and strengthen finances. Since then, he has cut bad loans and costs, rearranging business and simplifying the bank's structure.
Andrea Filtri, an analyst at Mediobanca SpA, reaffirmed his outperform recommendation on the stock, saying in the note Monday that the market is giving the bank credit for its targets after two quarters of solid delivery.
— With assistance by Lorenzo Totaro, John Follain, Chiara Albanese, Chiara Remondini, Francesca Cinelli, and Kevin Costelloe
Before it's here, it's on the Bloomberg Terminal.
LEARN MORE