Merkel Says Diesel Bans to Be Avoided as Clean-Air Aid Doubled
By and
Key German state leader urges pressure on foreign carmakers

Chancellor hosts emergency talks in Berlin on diesel crisis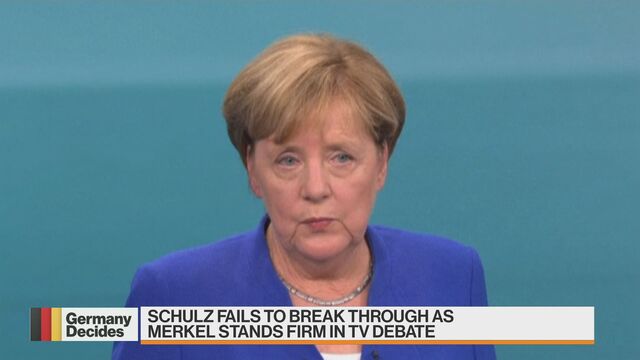 Chancellor Angela Merkel said German authorities are committed to avoiding city driving bans for diesel cars and pledged to double a federal clean-air fund to 1 billion euros ($1.2 billion).
Merkel sought to address fallout from Germany's diesel scandal during a meeting at the chancellery in Berlin on Monday, a day after her main election opponent pressed her in a television debate to step up her response. Baden-Wuerttemberg premier Winfried Kretschmann, whose state is home to Mercedes and Porsche cars, urged Merkel to press foreign automakers to submit to the same diesel-engine scrutiny as German manufacturers.
The German leader hosted leaders of 80 towns and cities as well as state governments to seek ways to lower diesel emissions without the need for outright driving bans, which some municipalities and courts have threatened. The aid money is meant to fund measures from purchases of electric buses for mass transit to improving bicycle infrastructure.
"All of us oppose blanket driving bans for particular kinds of engines or passenger-car types," Merkel told reporters. "We want to exhaust every option to avert such bans. The clock is ticking and we all know it requires a big push."
Merkel, who's running for a fourth term in Germany's Sept. 24 election, said she plans to hold talks with foreign companies, following on to a "diesel summit" with German automakers in August. What worries local officials is the real possibility that cities will face crippling diesel bans as nitrogen-oxide levels are exceeded.
Election Issue
"We need solutions quickly, at least in Bavaria," Munich Mayor Dieter Reiter said at the news conference. "Otherwise, courts will ban diesel vehicles."

In her only televised face-to-face clash with Martin Schulz, her Social Democratic challenger, Merkel on Sunday expressed outrage against auto executives, saying they had undermined a pillar of Germany's export economy. Asked by a debate moderator why she had appeared to go too easy on carmakers, Merkel responded that measures should go beyond the software upgrades already negotiated with the industry.
Volkswagen AG, Daimler AG and BMW AG agreed last month to upgrade more than 5 million diesel cars in Germany in a bid to salvage their beleaguered diesel technology and draw a line under an emissions cheating scandal that shows no signs of abating after nearly two years. The deal reached last month with the German Transport Ministry didn't include fixes to the actual hardware in cars that would be much more expensive.
Merkel 'Livid'
"You can't accuse me of going easy -- I'm outraged; I'm livid," Merkel said after Schulz suggested her government, which includes the Social Democrats as junior partner, hasn't cracked down enough on automakers. At the same time, Merkel warned against "demonizing" an industry that supports 800,000 jobs in Germany.
Three weeks before Germans go to the polls, the exchange illustrates how the diesel scandal has become an unexpected campaign focus. Merkel's Christian Democratic-led bloc leads the SPD in all national polls, requiring Schulz to go on the attack in his bid to deny the incumbent a fourth term.
While Merkel reeled off a series of campaign talking points on moving beyond the diesel crisis, Schulz personalized the issue by recalling contractors who came to his home in Aachen, Germany, driving diesel-powered vans.
"They all had two questions: Do I have to pay for the overhaul myself and will there be a driving ban in Aachen so I won't be able to do my job anymore," Schulz said.
Empty Campaign
Schulz struggled to draw out differences between himself and Merkel, even as they sparred over his call to allow vehicle owners the option of a German form of class-action lawsuits against automakers. Both candidates rejected diesel driving bans as a risk to jobs.
Germany's machinery industry association, which has expressed concern about the diesel scandal's fallout, criticized both candidates for failing to address how to keep the economy competitive.
"The duel between Angela Merkel and Martin Schulz put a finger into the wound of a contentless election campaign," Thilo Brodtmann, head of the machinery association, said in a statement.
— With assistance by Elisabeth Behrmann
Before it's here, it's on the Bloomberg Terminal.
LEARN MORE