Schulz Fails to Break Through as Merkel Holds Firm in Debate
By and
Chancellor and challenger spar over Trump, refugees, Turkey

It's their only face-to-face clash before Sept. 24 election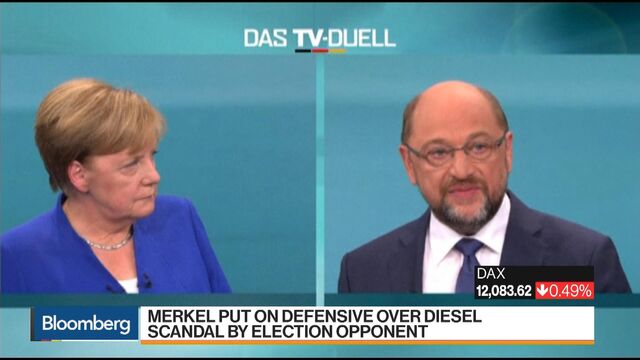 Angela Merkel's election opponent, Martin Schulz, failed to score a decisive breakthrough in their only televised debate as the chancellor stood firm on her record, insisting that controversial decisions on keeping the country's borders open for refugees and striking a deal with Turkey were right.
Trailing badly in the race to determine Germany's next leader, Schulz repeatedly failed to pin down Merkel on issues from pensions and a more socially just economy to Europe's dealings with the U.S. under Donald Trump. He also struggled to differentiate his policy positions from those of the Christian Democratic chancellor.
One flash poll released after the debate found that Merkel won, while a second called it a draw. Schulz said it was a "good night" in a Twitter post. But with the onus on the challenger to land blows and mark himself out, even a marginally better-than-expected performance suggests that his last best chance to claw back lost ground before the Sept. 24 vote may have passed him by.
"The expectations on Schulz were low; he exceeded them a bit, but he didn't finish the debate as a victor," Holger Schmieding, the chief economist at Berenberg, said in an interview. The differences between the candidates "were not very great," he said, adding: "This won't be enough for Schulz to gain a large number of undecided voters."

The Social Democratic Party leader attacked Merkel early in Sunday's nationally televised clash for failing to press other European Union countries to accept more refugees. As the 90-minute live encounter settled down, there were none of the kind of fireworks seen in U.S. debates and few fundamental gulfs in opinion emerged between the two candidates on topics such as dealing with Trump and responding to North Korea's hydrogen-bomb test.
For an interactive guide to possible German coalitions, click here.
Relations with Turkey produced some of the sharpest rhetoric, with Merkel and Schulz competing to take a hard line against President Recep Tayyip Erdogan after the arrests of German citizens. Both called for economic pressure and a halt to EU membership talks with Turkey, while upholding Europe's refugee accord with the country.
"The only language Erdogan understands is an unyielding stance," Schulz said. Merkel said Turkey "is moving away from democratic practices at breathtaking speed" and said she would lobby fellow EU leaders to formally end stalled accession talks, though she emphasized she has no intention of breaking off diplomatic relations.
More Aggressive
Merkel won the debate according to a viewer poll for ARD television, with 55 percent of respondents saying her performance was more convincing, compared with 35 percent for Schulz. While viewers rated Schulz as more aggressive and "closer to the people," Merkel had the edge on competence and credibility.
The "polite and cordial" debate wasn't a game changer, but "could at least be the start to a more vivid campaign in the next three weeks," Carsten Brzeski, chief economist at ING-Diba in Frankfurt, said in a note to clients.
Schulz was more sure-footed in the second half of the debate, when he hammered auto industry executives over Germany's diesel scandal and demanded the government take a harder line. He struck a personal note, citing workers whom he met in his home town who were worried that a ban on driving diesel vans in city centers would hurt their ability to do their job. Merkel, who is due to hold a meeting with municipal leaders on Monday to discuss ways to avoid such bans, said she was "livid" about the scandal.
Schulz scored points against Merkel on issues such as pensions and road tolls she had once opposed and "was strong on Trump," Michael Spreng, a political strategist, said in an interview after the debate. Franz Muentefering, a former SPD party chairman and vice chancellor in Merkel's first term, said the focus on international issues meant voters could still shift to the SPD on domestic policy and the election is still open.
"Schulz was a bit better," said Spreng. "But it won't fundamentally change the outcome of the election."
Last Chance
Three weeks out from the ballot, Merkel and her party lead in all polls, including personal popularity surveys. For Schulz, the debate was a chance to build momentum in the face of a strong German economy that limits appetite for change and for the populism that fueled anti-establishment candidates in elections from the U.S. to France.
For an interactive look at possible party coalitions, click here.
Helmed by four moderators from Germany's main networks, the debate produced polite attacks by Schulz and occasional defensive moments for Merkel. In part, that reflects the fact that Merkel's Christian Democrat-led bloc and Schulz's Social Democrats have governed together for eight of her 12 years in office, including the last four.
Schulz carried his campaign-trail attacks on Trump into the debate, portraying him as unpredictable, insulting and unsuited to handling the North Korean crisis.
Merkel took a different tack, saying she views her role as trying to exert moderating influence over the U.S. president. "I will make every effort also to convince the American president that we need a peaceful solution," she said.
Schulz took up a hot-button topic early on, criticizing Merkel's early response to the refugee crisis in 2015 because she failed to enlist other European Union countries from the start in sharing the influx of migrants. That prompted a testy response by the chancellor, who's seeking a fourth term.
"There are moments in the life of a leader or a chancellor where you just have to take decisions," Merkel said.
— With assistance by Birgit Jennen
Before it's here, it's on the Bloomberg Terminal.
LEARN MORE