Kenyan Growth Jitters Rekindled as Court Orders Ballot Rerun
By and
Prolonged uncertainty rattling investors: Genghis's Minjire

Supreme Court upheld opposition complaint of vote rigging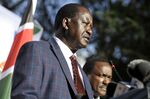 Kenya's economy may pay the price of opposition leader Raila Odinga's successful bid to nullify the outcome of last month's election, as prolonged political uncertainty pending a court-ordered rerun weighs on growth and investor confidence.
"There was a lot of exuberance that the elections were over," Kenneth Minjire, head of securities at Genghis Capital in Nairobi, said by phone. "Inquiries had shot up from private-equity firms, from foreign investors, who were holding off on investments. A lot of investors will hold off again just to see how this plays out. This writes off the second half as things slow down."
Odinga's five-party National Super Alliance alleged the electoral commission's computer systems were tampered with and vote tallies altered to hand President Uhuru Kenyatta a second term in the Aug. 8 vote. The Supreme Court upheld its complaint on Sept. 1 and ruled a new election be held within 60 days, a shock decision that's unprecedented in Africa.
The prospect of further political upheaval has spooked the financial markets, with the FTSE NSE Kenya 25 Index of stocks slumping 4 percent on Friday, the most in a year, while yields on the nation's foreign debt climbed the most in almost two months. The stocks index was down 1.6 percent by 1:20 p.m., while the shilling lost 0.2 percent against the dollar to 103.24, its lowest in two weeks.
Kenya has East Africa's largest economy, hosts the regional headquarters of companies including Google Inc. and General Electric Co. and several United Nations agencies, and is the world's largest shipper of black tea.
While Kenya's economy has been one of the continent's star performers, expanding an average of 5.7 percent a year since Kenyatta took office in 2013, the growth rate eased to a three-year low of 4.7 percent in the first quarter as a drought curbed agricultural production. Last month's vote spawned new challenges, as fears of a repetition of ethnic violence that claimed more than 1,100 lives after a disputed 2007 election subdued consumer and business spending and scared off tourists.
Uncertain Period
Shops, restaurants and hotels in the capital, Nairobi, emptied for about a week around the election and the normally congested streets were mostly empty. While the results announcement did spark protests, violence was mainly confined to opposition strongholds in Nairobi's slums and the western city of Kisumu. The opposition said more than 100 people were killed, while the Kenya National Commission on Human Rights put the death toll at 24.
"In the few days before the election, business was very good because customers were stocking up," said Mukeesh Jani, a manager at a Chandarana supermarket in Nairobi's western Lavington suburb. "After the voting day, business was very low. My workers couldn't come to work, even if they wanted to. There was no transport and we felt it was not very safe. Right now business is back to normal, but as for the coming election, I don't know what is going to happen."
The fresh vote complicates Kenya's attempts to rein in runaway spending, with a fiscal deficit of 10.2 percent, and may weaken the government's bargaining position on new debt, said Lisa Brown, a risk analyst at Rand Merchant Bank.
"This could see the government having to plug spending through an even more aggressive domestic and international debt uptake," Brown said by email. "The delayed election will likely impact on how expensive this debt will be. Pushing debt beyond their own projections could raise concerns for rating agencies."
Peter Attard Montalto, chief emerging-markets economist at Nomura International Plc in London, expects the economic impact of the rerun to largely be determined by how credible and peaceful it is.
"We have to get through a difficult period of uncertainty until the second election is concluded," he said. "If this process can be completed with contained unrest in 60 days, then 2018 still looks rosy."
'Real Worry'
The court ruling gives the authorities little time to address concerns about the integrity of the electoral commission and the counting process. Kenyatta said in a televised address that while he disagreed with the verdict, he would respect it.
There's a risk the next vote outcome will also be challenged and the new administration will only be able to get to work in January, delaying government projects and policy decisions needed to stimulate the economy, including a possible review of the state cap on bank lending rates that's choked credit, Securities Africa Ltd., a Bermuda-based brokerage, said in a research note.
"I can't see major economic decisions being undertaken and cannot see credit growth picking up," said John Ngumi, chairman of state-run Kenya Pipeline Co. "Other than rain-fed agriculture, the sectors one should be anxious about are tourism, construction and retail. Banking is another where reduced economic activity, especially the impact of this on small business, is a real worry."
Nairobi taxi driver Paul Njenga said he expects business to dry up for the rerun as it did last month.
"How do you make money?" he said. "I just want this to get over and done with."
— With assistance by Helen Nyambura-Mwaura
Before it's here, it's on the Bloomberg Terminal.
LEARN MORE