Something's Got to Give Before Australia Moves Rates
By
Firms conditions at 9-year high, consumer morale at 9-year low

Wildcard is the currency as CBA forecasts 85 cents next year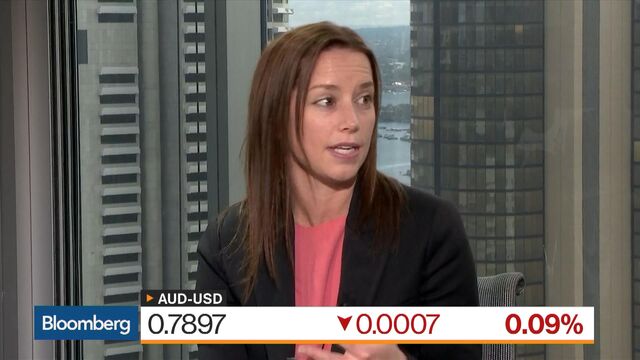 Start your day with what's moving markets in Asia. Sign up here to receive our newsletter.
Australia is stuck in an economic disconnect.
Business is regaining its strut and has begun investing, but debt-laden households are struggling with stagnant incomes and substantial hikes in power prices. Juggling the two is the Reserve Bank of Australia, which has kept its benchmark interest rate unchanged at a record-low 1.5 percent for the past year, and has little option but to do so again Tuesday.
Policy makers are blowing on the embers of the consumer in the hope of some sparks -- though in truth it's the strengthening business sector that needs to boost wages. As a result, traders are pricing in virtually no chance of a rate increase this year, but see about a 50 percent chance of a quarter-point hike in June 2018.
Governor Philip Lowe summed up the predicament during testimony to lawmakers last month, noting wage growth in Australia has slowed more than productivity growth: "The consequence of that is that the share of national income that is going to capital is at a five-decade high and the share going to labor is at a five-decade low." 
That discrepancy will have to change for strong, sustained growth to emerge Down Under, given consumption accounts for more than half of gross domestic product. 

RBA policy is running a balancing act: trying to bolster financial stability amid precariously high east-coast house prices while encouraging firms to invest and hire through low rates. While Lowe last month said it would be reasonable to expect the next rate move to be upward, he also signaled that was some way off and there was no rush to follow the stimulus withdrawal of global peers.
The central bank is instead treading carefully, wary that rate cuts would encourage more borrowing with household debt already at a record 190 percent of income. The government, meanwhile, has no cash for tax cuts as it tries to rein in a budget deficit. So the burden may fall to businesses, who are starting to approach a position where they could fatten pay packets.
We're Hiring
Data released last week showed firms lifted their forecast investment by 17.6 percent, the biggest increase in seven years, and importantly, plenty of this was from companies outside the mining sector. They're also hiring: in the past six months, almost 200,000 jobs have been added and there were 210,000 new full-time roles. The difference is due to the loss of part-time positions.
Underscoring the stronger labor market, job advertisements climbed 2 percent in August, the sixth monthly increase, data Monday showed.
On top of that, business conditions are at the highest level since before the 2008 financial crisis and that's helped drive a sustained lift in firms' confidence. But consumer sentiment has gone in the opposite direction, with August marking the ninth month when pessimists outnumbered optimists, the weakest succession of reads since 2008.

For business, the risk is the Aussie dollar. It's risen more than 10 U.S. cents since early 2016, when it traded near 68 U.S. cents and provided a tailwind for domestic industries. The currency crunch seems unlikely to ease, with Commonwealth Bank of Australia last week forecasting it will climb to 85 cents next year, from around 79.69 cents at 12:19 p.m. in Sydney Monday.
That wasn't meant to happen. As the Federal Reserve began to raise rates, the dollar was supposed to lift and the Aussie depreciate; instead, it's worked the other way round. Part of the reason is the expectation the Trump administration, which had planned an infrastructure spree, tax cuts and deregulation, is unlikely to achieve these aims.
Instead, it's Australia's federal and state governments that have started pouring cash into much needed infrastructure, which experience in New South Wales state has shown also tends to encourage the private sector to invest.
The big question Down Under is the outlook for consumption, as households face demands on their cash from all directions with no signs of relief.
Treasurer Scott Morrison last week cited recent data that less than 10 percent of those workers who actually had pay increases received rises above 4 percent, the lowest portion since at least 2000. Over the past five years, real wage growth is less than half what is was in the preceding decade, he said.
"Whilst the improvements we are seeing in our economy are welcome, they are of limited comfort so far to households who have not yet seen this translate into an improvement in their incomes," Morrison said in his speech.
— With assistance by Garfield Clinton Reynolds
Before it's here, it's on the Bloomberg Terminal.
LEARN MORE