Photographer: AFP via Getty Images
Five Things You Need to Know to Start Your Day
Get caught up on what's moving markets in Asia.
By
Want to receive this post in your inbox every morning? Sign up here.
North Korea claims to have an ICBM-ready hydrogen bomb, Modi's cabinet shuffle, and a potential debt ceiling solution surfaces. Here are some of the things people in markets are talking about.
H-Bomb
North Korea claims it has developed and tested a hydrogen bomb "with unprecedentedly big power" that can be loaded on an intercontinental ballistic missile. The detonation of a powerful weapon this weekend is seen as a bet that neither China nor the U.S. will be able to able to make Kim Jong Un's regime back down from its nuclear ambitions. In the wake of this revelation, U.S. President Donald Trump threatened more sanctions and to cut off trading ties with any country doing business with the North Korea. He tweeted criticism of China's commercial ties with Kim Jong Un's regime and South Korea's "talk of appeasement." The test was also condemned by world powers including Russia and France; an emergency meeting of the U.N. Security Council on Monday has been requested. The Japanese yen is jumping in early trading on Monday as investors seek haven assets.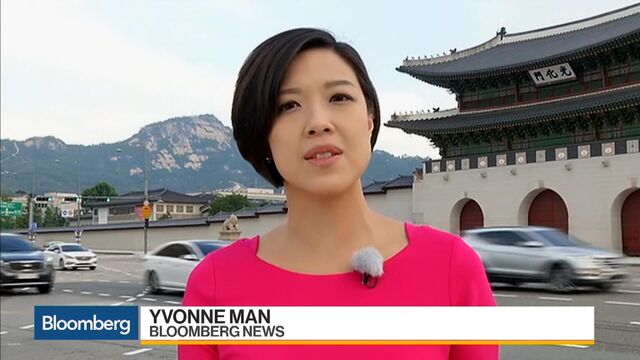 Overhaul in India
Indian Prime Minister Narendra Modi shuffled his cabinet on Sunday in a bid to implement his policy agenda more aggressively to boost wilting growth and alleviate social tensions ahead of state elections this year and a general election in 2019. Thanks to the moves, India now has a full-time defense minister — Nirmala Sitharaman, the country's second female to hold the position — who'll be tasked with expediting the procurement process. A new book shows former head of the Reserve Bank of India, Raghuram Rajan, warned one of Modi's controversial policies — a ban on high-denomination rupee notes — would have short-term costs that outweighed any long-term benefits.
Debt Drama
There might be a way to sidestep the U.S. debt ceiling drama that was expected to drag on through September. A letter from White House budget director Mick Mulvaney to House Speaker Paul Ryan draws a clear link between the disaster relief funding requested in the wake of Hurricane Harvey and the fast-approaching limit on the nation's borrowing capacity, which will be pulled forward by such an increase in spending. In a TV interview Sunday, U.S. Treasury Secretary Steven Mnuchin said combining a relief package with a debt ceiling increase was a way for lawmakers to "put politics aside" to help the country — and that his view is shared by President Donald Trump. Republican leaders in the House, however, don't plan on attaching a debt-limit increase in the legislation aimed at providing $6 billion in relief to victims of the storm. While top U.S. officials had previously pledged the nation's statutory borrowing limit would certainly be raised, the underperformance of Treasury bills maturing in early- to mid-October suggests that traders' worries about a potential default linger.
Back to the Deal 
After a week in which the fallout from Hurricane Harvey roiled oil markets, the focus may be about to shift back to dynamics outside the U.S. Russian deputy prime minister Arkady Dvorkovich told Bloomberg TV "the most likely outcome is that the deal [between OPEC and other major oil-producing nations] will be extended," while adding that it's too early to make a decision. Some U.S. refineries affected by the storm began to restart operations and the government approved the release of 4.5 million barrels from the strategic petroleum reserve, moves which tempered the weekly rise in gasoline prices Friday.
Jobs Day Plays Second Fiddle 
It was a trio of misses on U.S. jobs data released Friday after most Asian markets closed — with employment growth, the unemployment rate, and average hourly earnings coming in below economists' estimates — but for once, bonds couldn't catch a sustained bid. The 10-year Treasury yield briefly breached 2.10 percent in the wake of the lackluster jobs report, but quickly reversed course to hit its highs of the day after a pair of better-than-expected U.S. manufacturing purchasing managers' indexes affirmed the strength on the goods side of the world's largest economy.  When the dust settled, odds of another Fed hike by year-end were little changed from the prior session at about one-in-three.
What we've been reading
This is what caught our eye over the last 24 hours.
Before it's here, it's on the Bloomberg Terminal.
LEARN MORE