Exit From Paschi Driven by Industrial Perspective, Padoan Says
By , , and
Finance minister tells Bloomberg that Monte Paschi 'on track'

Italy's Padoan sees Paschi healthy, adding to economic growth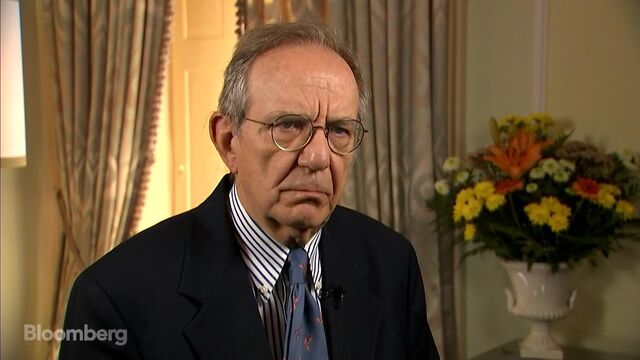 The Italian government's exit strategy from Banca Monte dei Paschi di Siena SpA will be driven by the industrial perspective of the world's oldest bank, according to Finance Minister Pier Carlo Padoan.
"We expect Monte Paschi to be a healthy bank -- to be contributing strongly to the growth of the Italian economy, a very large bank, and so this will complete the process in which eventually the government will step out of Monte Paschi," Padoan told Bloomberg Television in an interview at the Ambrosetti Forum in Cernobbio, Italy. "The exit strategy has to be driven carefully by the medium-term industrial perspective of the bank," the minister said.
Monte Paschi won in July EU approval to receive 5.4 billion euros ($6.4 billion) in aid from the Italian government as part of an 8.3 billion-euro precautionary recapitalization. The state has injected 3.9 billion euros of cash into the bank, while an additional 1.5 billion euros will be used to buy shares assigned to retail bondholders involved in the burden sharing. That will take the state's shareholding in the lender to 70 percent.
"Monte Paschi is on track," Padoan said, rejecting some investors' concerns that the stock may further decline when trading resumes. "Stock should be attractive because it is a stock related to a bank which is now very, very solid in terms of capital requirements and is being streamlined and made more efficient by the restructuring plan which is being implemented by the management."

Derivatives Deals
Monte Paschi, undermined by derivatives deals that backfired and souring loans, has received 4 billion euros in taxpayer-funded bailouts -- which it has repaid -- and 8 billion euros from investors since 2009. The lender lost 87 percent of its market value in 2016 before the shares were suspended on Dec. 23.
"Paschi enters as a major driver of a growing economy, so also the macroeconomic environment favors growing banks and I am confident that the market recognition will match that," the minister said.

The European Commission agreed to allow the state to inject the money only after shareholders and junior creditors contributed 4.3 billion euros to Monte Paschi's rescue, as required by European Union rules to minimize the costs of bailouts for taxpayers. As part of the agreement, the bank plans to cut about a fifth of its workforce, reduce branches and dispose of 28.6 billion euros of bad loans by 2021. The state intervention is the biggest since Benito Mussolini seized banks in 1933 -- including Paschi -- as part of his wholesale nationalization of the private sector.
"The purpose of the injection of capital is a temporary recapitalization for precautionary reasons as we all know so we have to design a sustainable, temporary path to that," Padoan said.
— With assistance by Chiara Albanese, and John Follain
Before it's here, it's on the Bloomberg Terminal.
LEARN MORE