Texas May Need More Than $120 Billion in Harvey Aid, Abbott Says
By
Texas governor expects Harvey to cost more than Katrina

White House has requested almost $8 billion in initial aid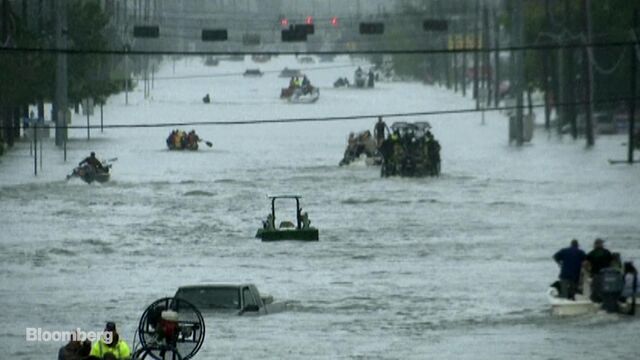 Two days after President Donald Trump asked Congress for $8 billion in initial relief for Harvey, Texas Governor Greg Abbott said his state may ultimately need more than the $120 billion that the U.S. spent on Hurricane Katrina recovery.
"When you look at the number of homes that have been mowed down and destroyed and damaged, this is going to be a huge catastrophe that people need to come to grips with," Abbott said on "State of the Union" on CNN. "It's going to take years for us to be able to overcome this challenge."
Abbott said Trump and Congress made it clear that the president's initial request for $7.85 billion "is just a down payment." The governor said more than 5 million people were affected by the storm, and both the population and geographic size involved is larger than that of Katrina, which hit Louisiana in 2005, and Hurricane Sandy, which hit the northeast in 2012, combined.
House Republican leaders plan to vote this week on Trump's request for initial disaster relief. During a Trump's Saturday visit to Texas, the president said he hoped it would be a "quick process" to get the first sum of relief money to the areas affected. Treasury Secretary Steven Mnuchin said Sunday that Congress should combine an initial relief package with a boost in the nation's debt limit, but it's unclear whether House Republicans will go along with the plan.
Irma Looming
More than 311,000 Texans have already applied for federal disaster relief funds and more than $530 million already has been granted, Vice President Mike Pence told reporters on Thursday. About 100,000 homes were damaged by the storm, White House Homeland Security Adviser Tom Bossert said Thursday in a briefing.
As efforts proceed to respond to Harvey, the Federal Emergency Management Agency is deploying assets to the Virgin Islands and Puerto Rico in preparation for Hurricane Irma, the agency's administrator, Brock Long, said Sunday.
"We're shifting focus to Irma as well as maintaining the effort to make sure that we have recovery command established in Texas and Louisiana," Long said on CBS's "Face the Nation."
"Individual assistance that's offered up by the Federal Emergency Management Agency is basically just a ray of hope," Long said on CBS. "The bottom line is is that it's not going to be enough to make anybody whole." 
Those in the area that didn't have flood insurance may be eligible for federal funds to cover home repairs and other costs, he said.
The comments from Abbott and Long came after Trump's Saturday visit to Texas and Louisiana, including a stop in Houston's NRG Center, which is being used as an emergency shelter. The president shook hands, dispensed aid and posed for pictures.
Well Received
The storm victims "are really happy with what's going on," Trump said, in reference to the disaster response. "It's something that's been very well received."
It was the president's second visit to storm-ravaged Texas within the last week, after he met with state and local officials in Rockport and Austin on Aug. 29. Trump also visited Lake Charles, Louisiana, where he was greeted by enthusiastic crowds with hats and signs.
Earlier Saturday, at the First Church in Pearland, Texas, which has been providing food to people in the region, Trump marveled at the roads he saw that had been flooded just two or three days before.
Standing alongside Abbott, First Lady Melania Trump and Texas Senator Ted Cruz at the church, Trump offered words of encouragement for the survivors of the storm.
"The water's disappearing," Trump said. "We knew we have a long way to go, but the water's disappearing. And you look at the neighborhoods and you see it's –- we just saw it through there. Two days ago, even yesterday, they had water. Today it's all swept up and cleaned up. We've got a lot of hard-working people, I'll tell you that."
Trump closed by discussing the effort to rebuild. "We're talking about, they say two years, three years, but I think that because this is Texas you'll probably do it in six months!"
— With assistance by Toluse Olorunnipa
Before it's here, it's on the Bloomberg Terminal.
LEARN MORE