Trump's Border Wall Inches Forward as U.S. Picks Prototypes
By
Four firms chosen to build concrete samples in San Diego

As many as four more design awards expected before decisions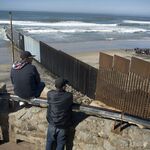 U.S. Customs and Border Protection selected four vendors to build concrete prototypes for President Donald Trump's promised border wall between the U.S. and Mexico Thursday.
Caddell Construction Co. of Montgomery, Alabama; Fisher Sand & Gravel Co. of Tempe, Arizona; Texas Sterling Construction Co. of Houston; and W.G. Yates & Sons Construction Co. of Philadelphia, Mississippi; will build prototypes of their designs for the wall at a location near San Diego. Construction may begin next month and will take 30 days.
Each prototype will be 30 feet long and between about 18 feet and 30 feet high. The government will pay as much as $500,000 each for the mock-ups.
Testing the four concrete prototypes will take about two months, said Ronald Vitiello, acting deputy commissioner of CBP said at a press conference in Washington. In addition, contracts for as many as four other prototypes built of other materials will be awarded as soon as next week. Those prototypes will be reviewed also before any final decision is made, Vitiello said.
"We'll look at things like the aesthetics of it, how penetrable they are, how resistant they are to tampering and then scaling or anti-climb feature," Vitiello said.
The next step "is to sit down with these companies and discuss timing," he said, adding that the meetings will take place "within a couple of weeks."
Jared Fuller, a vice president of W.G. Yates, said he couldn't discuss the award because the competition continues. None of the other companies responded to requests for comment.
CBP in March issued two requests for proposals to acquire conceptual wall designs. A bid protest that had delayed the award was dismissed on Aug. 25. Further protests from builders that weren't selected are possible.
"Prototyping is an industry-tested approach to identify the best solution when considering a new product or methodology," CBP said in the statement. "Through the construction of prototypes, CBP will partner with industry to identify additional means and methods to construct a border wall."
The House on July 27 passed a spending bill that complies with Trump's demands to start work on the wall. Republican leaders added $1.6 billion in border-wall funding for the fiscal year that begins Oct. 1. The Senate hasn't taken up the measure.
Trump this month threatened to shut down the federal government if Congress refuses to send him a spending bill that funds the wall, a centerpiece of his presidential campaign.
— With assistance by Thomas Black, and Ben Brody
Before it's here, it's on the Bloomberg Terminal.
LEARN MORE