charted
Smaller India Drug Firms Drive Generics Success in U.S.
Overall Indian approvals are at peak
By , , and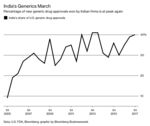 The share of new U.S. generic drug approvals won by Indian companies is back at its peak, driven by a wave of smaller firms. After going head to head with competitors in their home market, the newcomers have shown a willingness to offer steep discounts to get a foothold in the U.S. That is hurting the profits of big incumbents like Teva Pharmaceutical Industries Ltd. and Sun Pharmaceutical Industries Ltd.
Before it's here, it's on the Bloomberg Terminal.
LEARN MORE