Mnuchin Sees Closer Debt-Limit Deadline as Harvey Demands Grow
By
Hurricane spending to hit September spending bill: Mnuchin

Treasury chief expects to release tax reform blueprint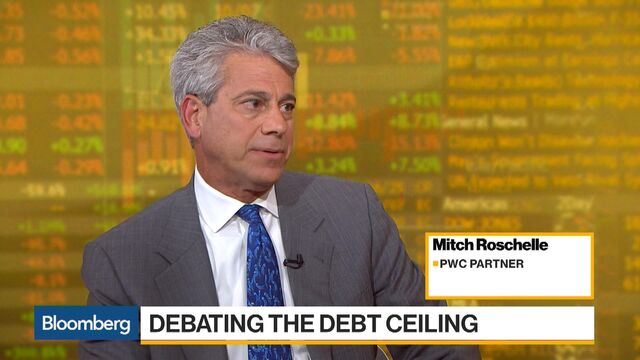 The additional spending needed to help Texas recover from Hurricane Harvey may reduce the amount of time Congress has to increase the federal debt limit, U.S. Treasury Secretary Steven Mnuchin said.
"In terms of when it's going to hit the debt ceiling, there could be some impact of a couple of days, but that would be the most," he said in an interview on CNBC on Thursday. "We're going to have to go to Congress and get authorization to spend more, because it's absolutely critical that we spend money to help the state."
Mnuchin has repeatedly said that it's "critical" that Congress raise the debt ceiling by Sept. 29, and he stuck by projection on Thursday for the time being. Independent estimates show that the government will reach its statutory limit on borrowing some time in October. Mnuchin has not provided Congress with a final date for when the U.S. would breach the debt limit, as is customary this close to the so-called X-date.
"The next big cash day for us is obviously Sept. 15. That's when we get corporate taxes, so the projections could move around a little bit," he said on Thursday.
Investors are growing increasingly concerned whether the Republican-controlled Congress can work with Democrats to avert a historic default. Key Treasury-market industry groups are dusting off plans developed ahead of previous debt-ceiling showdowns in a bid to lessen the potential market disruption should politicians fail to raise the borrowing limit.
The $20 billion of four-week bills Treasury plans to sell Sept. 5 are trading at 1.015 percent in the when-issued market, a sign that investors are starting to build a buffer against the potential debt ceiling turbulence ahead.
Read more: Wall Street Not Waiting on Mnuchin, Readies Debt-Limit War Room
Senate Majority Leader Mitch McConnell has said that there is "zero chance" that Congress will fail to raise the debt ceiling. Democrats have also signaled eagerness not to spook markets with political uncertainty around the issue.
If Treasury exhausts the measures it's using to fund itself, it could prioritize debt service over other obligations. The Obama administration in 2011 created a secret contingency plan for such an occasion that it never had to use. Ratings companies expect Mnuchin to resort to such a backup plan if he needs to, but are split over whether it would trigger a review of the U.S.'s credit rating.
Mnuchin has pushed back on the idea of prioritization, saying that he has "no intent" to do so.
Mnuchin also said on Thursday that more details of a tax overhaul would be released "later this month," an apparent reference to September, as part of blueprint that would then go to the tax-writing committees in the House and Senate. He added that the administration and lawmakers were still "on track" to get a tax bill signed by the end of the year.
— With assistance by Alexis Leondis, and Alex Harris
Before it's here, it's on the Bloomberg Terminal.
LEARN MORE