Japan's Opposition Picks New Leader to Challenge Slumping Abe
By
Former Foreign Minister Maehara set beats left-leaning Edano

55-year-old may seek an alliance with popular Tokyo governor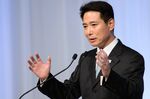 Japan's biggest opposition party picked a new conservative leader Friday as it seeks to capitalize on Prime Minister Shinzo Abe's drop in popularity.
Former Foreign Minister Seiji Maehara, 55, beat the left-leaning Yukio Edano, 53, in an election for leadership of the traditionally center-left Democratic Party. Reports say the photogenic former leader may seek an alliance with popular Tokyo Governor Yuriko Koike, who is looking to expand her support base beyond the capital.

Riddled by infighting, the party has failed to present a coherent vision for the country since being turfed out of power by Abe in a 2012 landslide after three years in government. Despite a recent fall in support over a series of scandals, Abe's ruling Liberal Democratic Party is well ahead of the Democrats in the polls. Maehara's victory may now affect when Abe calls the next national election, which is due by the end of 2018.
"An early election could be delayed with a Maehara victory," Koya Miyamae, an economist at SMBC Nikko Securities Inc. in Tokyo, wrote in an emailed note ahead of the vote.
In a Nikkei survey conducted this week, Abe's LDP received support from 34 percent of respondents, compared with just 4 percent for the Democrats. More than 50 percent said they supported no party.
Tokyo Alliance
The Democratic Party election was triggered by the resignation of former leader Renho, who generally goes by only one name, after she failed to smooth over internal clashes and oversaw a heavy defeat in the Tokyo local assembly election in July.
In a press conference this week, Maehara called for an "all for all" redistribution policy that provides support for people on low wages and those struggling in regions outside the main urban areas.
The new leader is unlikely to help the party benefit from Abe's dip in the polls, according to Jun Okumura, a visiting scholar at Meiji Institute for Global Affairs in Tokyo.
"Maehara cannot lead the opposition to the promised land," he said. "Been there, failed to do that."
Before it's here, it's on the Bloomberg Terminal.
LEARN MORE