Japan Encouraged by May's Pledge of Predictable Brexit, Abe Says
By , , and
Aston Martin CEO Palmer urges clarity for auto investment

Barnier signals rift as latest round of Brexit talks concludes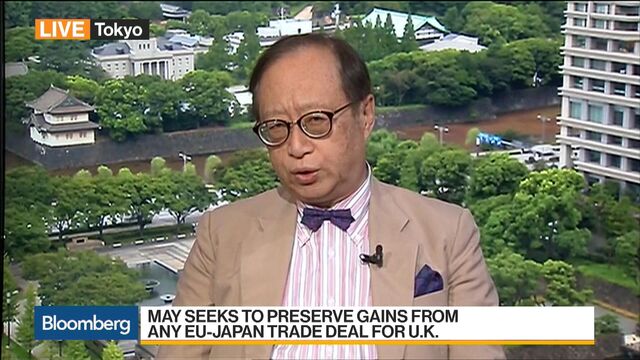 Japanese Prime Minister Shinzo Abe said he's encouraged by pledges from his U.K. counterpart, Theresa May, after he pressed for a "transparent and predictable" British breakaway from the European Union to reassure Japanese investors.
Abe said he's "convinced" Britain will remain a "compelling" place for Japanese companies to do business, citing government announcements since the Brexit referendum last year as a sign of their expectations. But he echoed British automaker Aston Martin, which said uncertainty could affect investments.
"It's extremely important for Brexit to be transparent and predictable. The prime minister gave an encouraging response to this," Abe told a news conference after meeting with May in Tokyo on Thursday. "Japanese companies are closely following Prime Minister May's thinking on Brexit and what consideration she will give to them."
His comments reflect the concerns of the more than 1,000 Japanese companies that employ about 160,000 people in Britain, including Nissan Motor Co Ltd. and Hitachi Ltd. The U.K. government has already given reassurances to the former to keep factories in the country but there needs to be clarity to minimize damage to businesses, Abe said.
While continued access to the European market dominates the concerns of Japanese companies investing in Britain, May sought to reassure them with a promise that a trade deal between the U.K. and Japan could be quickly concluded after Brexit.
'Swift Conclusion'
"We have agreed here today that we want to see a swift conclusion of the ambitious EU-Japan economic partnership agreement," May said. "Prime Minister Abe and I have agreed that as we exit the EU we will work quickly" to build a new bilateral deal using that as a basis, she said.
May, for her part, held separate 10-minute meetings with executives from Nissan, Toyota Motor Corp. and Hitachi on the margins of a business forum in Tokyo on Thursday, her office said. The meetings, with Toyota Chairman Takeshi Uchiyamada, Nissan Chief Executive Officer Hiroto Saikawa and Hitachi Chairman Hiroaki Nakanishi, all centered on Brexit, with May emphasizing U.K. priorities on the need for a swift agreement with the EU on the future trading relationship, and on securing a transitional period of a defined length.
The auto industry, though, remains nervous about Britain leaving the EU, Aston Martin CEO Andy Palmer, who's traveling with May, told reporters in Tokyo. He warned that executives are considering holding back investment until there's more certainty on the direction of Brexit.
'Big Bets'
"In my world when you decide to design a new car, it takes four years and will probably cost you a billion dollars," he said. "Those are big bets you have to put down and if you don't know what your sales environment, or your manufacturing environment is going to be like in four years, you can either hesitate to make the investment or you can make the investment with a certain degree of risk."
Getting to a position where Britain and the EU have agreed not to impose tariffs "will be a big breakthrough," he added.
That breakthrough may not come anytime soon, with the latest round of Brexit talks in Brussels ending in acrimony on Thursday. The EU's chief negotiator, Michel Barnier, said the negotiations are far from making the progress that's needed because the U.K. is asking for the impossible.
— With assistance by Andy Sharp, and Charlotte Ryan
Before it's here, it's on the Bloomberg Terminal.
LEARN MORE