Here's How Congress Is Reacting to Wells Fargo's Latest Setback
By
Lawmakers outraged after bank discloses more bogus accounts

Embattled lender could face more hearings, reputational damage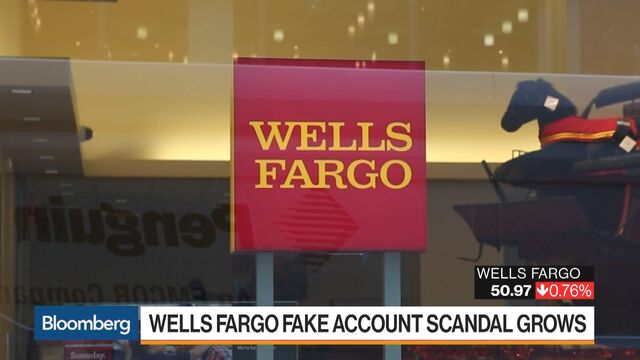 Break up big banks, hold more congressional grillings and don't let up until executives are held accountable.
Those were just some of the reactions from U.S. lawmakers after Wells Fargo & Co. raised its estimate Thursday by 67 percent for how many bogus accounts employees may have created. 
The disclosure that 3.5 million total accounts could have been opened without customer consent set off another round of criticism on Capitol Hill for an embattled lender that has faced scandal after scandal over the past year.
The bipartisan attacks indicate Congress will have Wells Fargo back in its sights when lawmakers return from their August recess next week. Still, it remains to be seen what the consequences will be for the bank, as its past missteps have led to congressional criticism followed by little action. And lawmakers have a full plate next month trying to cut deals to avoid a government shutdown and raising the debt ceiling.
Here is an overview of some of the Thursday condemnations of Wells Fargo:
Jeb Hensarling
House Financial Services Committee Chairman Jeb Hensarling, a Texas Republican, said his panel is continuing to investigate Wells Fargo over the phony accounts scandal and the bank's July disclosure that some of its auto-loan customers may have been charged for insurance they didn't want or need. 
Hensarling said in a statement that his committee is "deploying all necessary investigative powers to make sure people are held accountable."
"Unacceptable and outrageous are the first two thoughts that come to my mind upon learning that even more customers have been harmed by Wells Fargo than originally believed," he said. "This latest revelation of customer abuse is further evidence of catastrophic mismanagement at the bank."
Elizabeth Warren
U.S. Senator Elizabeth Warren, the banking industry's most relentless critic in Washington, called Wells Fargo's Thursday disclosure "unbelievable." 
In a series of tweets, the Massachusetts Democrat renewed her call for the Federal Reserve to remove every Wells Fargo director who served on the board while employees were creating fake accounts. And she urged lawmakers to hold another hearing on Wells Fargo.
"Congress also can't look the other way," Warren tweeted.
Sherrod Brown
U.S. Senator Sherrod Brown, the top Democrat on the Senate Banking Committee, said Wells Fargo's conduct was "outrageous."
"Wells Fargo harmed millions more customers than originally disclosed, and continues to avoid accountability," the Ohio senator tweeted.
Maxine Waters
U.S. Representative Maxine Waters, the top Democrat on the House Financial Services Committee, insinuated that Wells Fargo's misdeeds show it may be too big to manage. The California lawmaker pledged to pursue legislation that will break lenders up.
"Wells Fargo has made a routine practice of ripping off and preying on their customers, in a seemingly never-ending avalanche of scandals in which servicemembers, minorities, homeowners, small business owners and many other consumers have been targeted and abused by the bank," Waters said in a statement. "This disgraceful, illegal, and widespread misconduct is exactly why I will be introducing legislation that breaks up banks -- like Wells Fargo -- that repeatedly engage in consumer abuses, so that they can never harm consumers again."
— With assistance by Laura J Keller
Before it's here, it's on the Bloomberg Terminal.
LEARN MORE