Erdogan Is One Reason Macron Says His Job Isn't That 'Cool'
By and
Being president involves unpleasant tasks, Macron suggests

'I am the one who has to speak every ten days to Erdogan'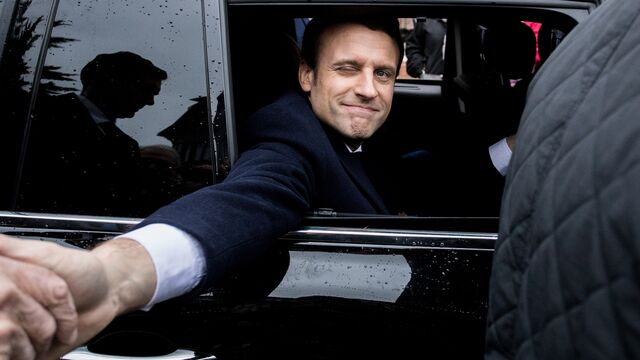 French President Emmanuel Macron says his job's not as "cool" as one might think.
After all, said the French leader, among his many chores is having to often speak with Turkish President Recep Tayyip Erdogan.
"The international stage is not really that cool, you know," Macron was quoted as saying in a lengthy interview released Thursday by French weekly Le Point. "I am the one who has to speak every 10 days to Erdogan."

The undiplomatic comments from Macron come soon after his recent war of words with Polish Prime Minister Beata Szydlo and show a blunter side of the French leader who has worked hard to put himself on the world stage by courting Donald Trump during the U.S. president's visit to France in July and hosting Russian President Vladimir Putin in May.
The remarks also come as European leaders increasingly distance themselves from Erdogan, who has overseen a massive purge of civil society, media organizations and political opponents since a coup attempt against him last year. Among those Turkey has detained include a German human rights activist, an American pastor and several European journalists, including a French citizen, Loup Bureau, who's been held for more than a month despite repeated pleas from Macron to Erdogan that he be released.
No Membership
The human rights concerns have all but snuffed out Turkey's hopes of eventual membership in the European Union, and have begun to impact business ties. German Chancellor Angela Merkel told reporters at her annual press conference in Berlin on Tuesday that worsening relations would have an economic impact. Germany is Turkey's biggest trading partner and was one of its largest sources of tourism income.
On Aug. 25, German Foreign Minister Sigmar Gabriel said that Turkey under Erdogan would never enter into serious membership talks. He accused the Turkish leader of seeking to create the impression that it was Germany that was breaking off negotiations to use it for his own political gain.
Erdogan was one of the first leaders who Macron spoke with after his election on May 7, along with Germany's Merkel, U.K. Prime Minister Theresa May, Canadian Prime Minister Justin Trudeau and Trump. In addition to the issue of jailed French citizens, the two leaders have also discussed the situation in Syria and cooperation against terrorism.
Refugee Card
European leaders had generally been reluctant to criticize Turkey too harshly, as the EU relies on Turkey to stem the flow of Syrian refugees following a deal negotiated last year. Erdogan has repeatedly vowed to scrap the agreement, saying the EU has failed to meet its side of the bargain, which included a promise of visa-free travel for Turks to the EU and 6 billion euros ($7.25 billion) in aid.
Turkish officials have in recent days sought to play down the tensions with Europe. Erdogan has "very good" relations with Macron, the Turkish leader's adviser Cemil Ertem said in an interview with NTV television on Thursday.
Gulnur Aybet, another adviser to the Turkish president, attributed the tensions with Germany partly to that country's elections, and predicted that business ties would "be a huge impetus for better relations" when the voting was over.
"Turkish-German business relations are flourishing, they are very strong," Aybet said in an interview with Bloomberg on Tuesday. The German citizens detained in Turkey are being held because of evidence linking them to a terrorist organization, she said.
— With assistance by Selcan Hacaoglu
Before it's here, it's on the Bloomberg Terminal.
LEARN MORE