Five Things You Need to Know to Start Your Day
Get caught up on what's moving markets in Asia.
By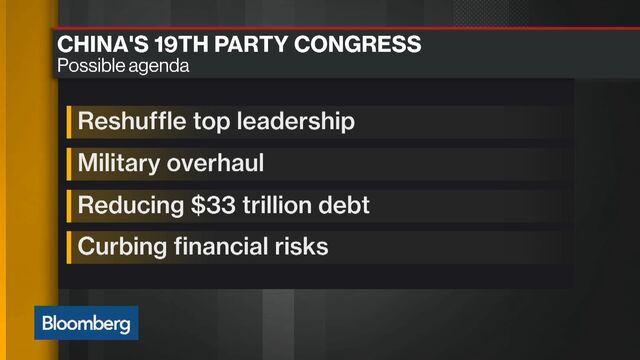 Want to receive this post in your inbox every morning? Sign up here.
Countdown to Chinese Party Congress officially begins, sliding yields mystify Wall Street, and another big day of data. Here are some of the things people in markets are talking about.
Save the Date
Oct. 18. That's the proposed date for the start of the Chinese Communist Party's twice-a-decade Congress, at which President Xi Jinping will have the opportunity to reshuffle top government positions. The week-long event will reveal the extent to which Xi is able to put his stamp on the party, particularly as it relates to matters of the military and financial stability. Stability has been a priority for China's leadership in the run-up to the Congress; whether that persists afterward is an open question. Goldman Sachs, for one, has warned of the potential for volatility in offshore Chinese stocks in the wake of the reshuffle.
Tech Triumph
Forget the tech wreck – U.S. tech stocks are back at record highs after the Nasdaq Composite Index's near-1 percent rally. The S&P 500 Index managed to avoid a monthly loss with its fifth-straight daily gain, led by health care and, you guessed it, tech stocks. Ten-year Treasury yields slipped in a continuation of a move that's amazed Wall Street; the Bloomberg Dollar Spot Index extended declines after Treasury Secretary Steven Mnuchin acknowledged that a weaker currency is somewhat better for trade. Gasoline set a fresh two-year high with many refineries still shut due to Harvey. Crude rose, with West Texas Intermediate up to about $47 per barrel. The Canadian dollar bested all its G-10 peers thanks to oil's move and blockbuster second-quarter growth that prompted traders to reassess the likelihood of another interest rate hike Wednesday.
Coming Up...
Investors will be digesting a plethora of updates on the state of manufacturing in China, Japan, South Korea, India, Australia, Thailand, and Taiwan with the release of monthly purchasing managers' indexes throughout the day. China's official factory gauge unexpectedly rose in August, data released Thursday showed. There's also a boatload of South Korean data on the docket besides the PMI report. The final second quarter growth tally is expected to confirm the economy expanded at a rate of 0.6 percent quarter on quarter. The annual core and headline inflation rates are also forecast to hold steady at 1.8 and 2.2 percent, respectively, in August. Elsewhere, Macau casino revenue for August may also get released.
Jobs Day
It'll be too late for traders in Asia to react, but Friday's non-farm payrolls report in the U.S. is sure to set the tone for trading in the week to come. Economists are calling for job growth of 180,000 in August, with the unemployment rate holding steady at 4.3 percent and average hourly earnings up 0.2 percent month on month. Be warned, however: economists have consistently overestimated how much employment will rise in the eighth month of the year. Employment in the coal mining industry fell for the first time in Donald Trump's presidency in July, making that sector one to watch this time around. As Hurricane Harvey occurred after the survey week, the disaster will not affect this release.
Futures Mixed 
Nikkei 225 futures are trading flat while S&P/ASX 200 futures are in positive territory ahead of the open. The MSCI Asia Pacific Index gained on Thursday on the heels of positive data out of the world's two largest economies. A month full of geopolitical turmoil weighed on Japanese stocks, with the Topix suffering its first monthly retreat since March. It's a different story in Hong Kong, where the Hang Seng is now on its longest monthly winning streak since 2007.
What we've been reading
This is what caught our eye over the last 24 hours.
Before it's here, it's on the Bloomberg Terminal.
LEARN MORE