Cheap Oil And Costly Fuel Are Harvey Windfall for Top Market
By , , and
Asian refining margins soar as storm spurs supply speculation

Some ships to move fuel from Singapore; regional demand strong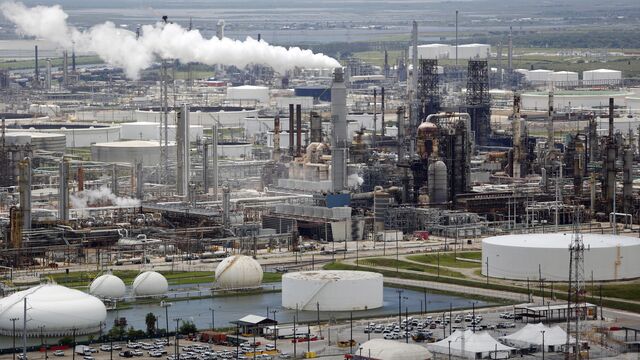 Start your day with what's moving markets in Asia. Sign up here to receive our newsletter.
The shutdown of almost a quarter of U.S. crude refining capacity in the wake of Hurricane Harvey is presenting a rare opportunity for fuel traders in Asia.
A spike in American gasoline prices as the storm cuts off supplies is drawing shipments from as far away as Singapore. The disruptions are also weighing on global crude futures, helping drive up processing profits thousands of miles away from Harvey's trail of destruction on the U.S. Gulf Coast. Returns from making oil products in Asia have soared to the highest level in more than two years. Even companies that aren't transporting fuel west are benefiting, according to Indian Oil Corp., the nation's top refiner.
Traders have hired vessels to ferry at least 105,000 tons of processed products from Singapore to America next month, and are seeking to charter more. Tankers have been booked to transport gasoline from Europe to the U.S., and the fuel is now set to be shipped over even longer distances as the premium of American prices soar relative to those in Asia, the world's biggest oil market. Additionally, Indian Oil says demand is strong enough for refiners that don't export to stick to domestic markets and enjoy cheaper feedstock and higher fuel prices.

"Harvey is creating a dual benefit for Asian refiners," said Arun Kumar Sharma, finance director at Indian Oil. "The shutdown of U.S. refineries is pulling down crude prices and pushing up prices of petroleum products. This will have a double-impact on refinery margins, especially in Asia."
The profit from turning a barrel of Dubai crude to fuel in Asia has soared to $9.78 a barrel, the most since June 2015, according to data compiled by Bloomberg. The margin was less than $6.50 on Monday. West Texas Intermediate crude, the U.S. marker, slumped almost 4 percent this week through Wednesday while Brent, the benchmark for more than half the world's oil, dropped about 3 percent.
After blasting along the Texas coast as a hurricane last week, Harvey has made landfall a second time in Louisiana as a Tropical Storm, drenching the states in rain and hampering energy infrastructure. It's reduced U.S. fuel-making capacity by about 4.25 million barrels a day to the lowest since 2010. A combined 23 percent of American capacity is at least partially offline.
Costlier Gasoline
Gasoline in New York has jumped above $2 a gallon for first time since 2015. Colonial Pipeline Co., the largest U.S. conduit for the fuel, planned to halt its gasoline line Thursday because about half of Gulf Coast refining capacity was offline. Valero Energy Corp. and Royal Dutch Shell Plc, both major Gulf Coast processors, told wholesale customers Wednesday they don't have enough gasoline and diesel to sell retail suppliers.
Soaring U.S. gasoline prices mean it is now profitable to send the fuel from Singapore to the U.S. The premium of Gulf Coast gasoline to prices in Singapore, the regional trading hub, surged to $17.76 a barrel on Aug. 30, the most since at least 2011, according to data compiled by Bloomberg. The spread was at $2.38 on Aug. 21 before Harvey hit.
Meanwhile freight has risen by only 80 cents a barrel, according to Bloomberg calculations based on data from shipbrokers. A ship carrying 35,000 tons of gasoline would have cost the equivalent of $3.47 a barrel to charter earlier this month, excluding insurance and some other costs. That's now risen to $4.27 a barrel.
"Refiners in Singapore, South Korea and India are capable of producing U.S. gasoline specifications and will be able to meet increased demand in the U.S.," said Ehsan Ul-Haq, a London-based director of crude oil and refined products at Resource Economist Ltd. "Due to the lack of North American product supply, Latin America might also require products."

Indian Oil has gained almost 5 percent this week, while Thailand's IRPC Pcl has risen 4.4 percent and India's Mangalore Refinery and Petrochemicals Ltd. has gained about 12 percent. South Korean refiner S-Oil Corp. has risen about 6 percent, the biggest weekly increase since March, and SK Innovation Co. advanced 4.4 percent.
— With assistance by Sharon Cho, Sherry Su, and Alfred Cang
Before it's here, it's on the Bloomberg Terminal.
LEARN MORE