'Brazil's Hillary Clinton' Gives Clearest Sign Yet He's Running for President
By
Geraldo Alckmin says comparison to Clinton is 'hilarious'

Alckmin and Sao Paulo mayor Doria vying for PSDB candidacy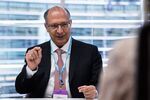 The race to Brazil's presidential election next year is off to an early start after Sao Paulo state governor Geraldo Alckmin on Thursday gave the clearest indication yet he intends to run.
"I want to be the candidate of the Brazilian people, the entrepreneurs that generate jobs, the working people of Brazil, sacrificed and often wronged," Alckmin told reporters in Sao Paulo after a public event.
Alckmin has been vying with Sao Paulo mayor Joao Doria in an unofficial competition for the candidacy of the Brazilian Social Democracy Party, or PSDB, one of the largest in the country.
While Doria is a newcomer to the party and only began governing South America's largest city in January, he is considered more charismatic and a fresh face in a country where traditional politicians are widely discredited as self-serving and even corrupt. Alckmin by contrast is a career politician who lost his bid for the presidency against Luiz Inacio Lula da Silva in 2006.
Latest opinion polls show the left-wing former president leading the race for the 2018 election, but there is a significant chance he will be barred from running if his conviction on a corruption charge is upheld on appeal. Jair Bolsonaro, a far-right candidate, competes with a former environment minister, Marina Silva, for second place.
Despite his position in the polls, it is not Lula who represents the main threat to market-friendly policies in next year's elections, political consultancy Eurasia Group wrote in a report earlier this week. Rather, it is a rising tide of anti-establishment sentiment that could scupper the chances of an experienced, centrist politician like the governor of Sao Paulo.
"Alckmin is Brazil's Hillary Clinton," Eurasia Group's Christopher Garman and other researchers wrote, referring to the Democratic Party's decision to choose the "quintessential establishment candidate" in the last U.S. election.
Asked about the comparison, Alckmin joked: "It's not Hillary, it's hilarious. If they knew Brazil a little, they'd know that Hillary would have won in Brazil."
— With assistance by Matthew Malinowski
Before it's here, it's on the Bloomberg Terminal.
LEARN MORE