Your Evening Briefing
Here are today's top stories
Bloomberg News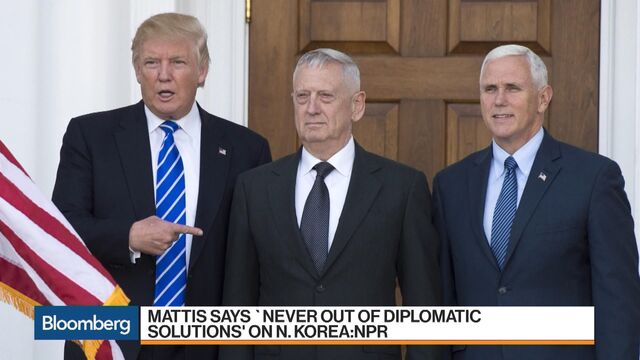 Want to receive this post in your inbox every afternoon? Sign up here.
Why is Harvey still stuck near Texas? The storm made landfall for a second time on the battered Gulf of Mexico coastline in Louisiana, wreaking further havoc. It's the latest in a string of recent weather disasters marked by their staying power. Climate reporter Eric Roston explains the debate among scientists about the cause of meteorological stickiness, and how much man-made pollution has to do with it.—Katie Robertson
Trump says the U.S. has a once-in-a-generation chance for tax overhaul. President Donald Trump warned Congress not to miss a "once-in-a-generation opportunity" to boost the economy with a massive overhaul of the U.S. tax code as he kicked off his effort to sell the American public on his tax plan on Wednesday in Springfield, Missouri. The president's speech was light on details, offering little insight into what his administration wants out of a final tax package.
Warren Buffett says stocks are "less attractive" but still beat bonds. The billionaire Berkshire Hathaway CEO said the rally in markets over the last several years has made it harder to find new investments. He continued buying Apple stock this year, even as one of his deputies was selling.

Trump says "talking is not the answer" to North Korea's missiles. The Trump administration delivered mixed signals on the latest provocation, a missile launched by North Korea on Tuesday that soared over Japan. The president dismissed the idea of negotiating with Kim Jong Un's regime, while Defense Secretary Jim Mattis said the U.S. hasn't exhausted its diplomatic options.
An Uber backer defends Travis Kalanick against "sanctimonious hypocrites." Investor Shervin Pishevar, a friend of the ousted Uber CEO, wrote a letter to his lawyers last week designed to inspire them. Pishevar requested to join a lawsuit in defense of Kalanick that was brought by the venture capital firm Benchmark, another Uber backer.
Apple plans to change the way you use the next iPhone. The tech giant is eliminating the concept of a home button in favor of new gesture controls on the iPhone 8, according to images of the device viewed by Bloomberg News and people familiar with the gadget. Three new iPhones will debut next month, with the high-end version packing in enough changes to make it one of the biggest updates in the product's decade-long history.
A black-card wannabe has gone down in flames. Billy McFarland's "Magnises" was supposed to be a super-exclusive passport to hip events. Another McFarland idea, one for a Bahamas music festival, brought it all tumbling down. With McFarland now exploring a possible plea deal with the government over the Fyre Festival disaster, expansion plans for Magnises have been scrapped and there's little left of the company.
Is market price on menus a scam? When you see "market price" on a menu, the item is going to be expensive, no matter what the so-called market says. The pricing technique usually reserved for fresh-caught seafood is becoming popular with chefs who want to lend a glint of exclusivity to steaks, ribs, and even vegetables.
Before it's here, it's on the Bloomberg Terminal.
LEARN MORE