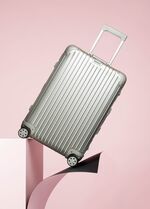 The Characteristics
Founded in 1898, the German luggage maker Rimowa GmbH adopted its signature material after a 1937 fire destroyed everything except its aluminum stock. Products such as the Topas, inspired by the exterior grooves of an aircraft, have made the brand a leader in lightweight, premium suitcases, thanks in part to a patented multiwheel system that uses ball bearings to turn easily and rotate in all directions. With the addition of an electronic tag, part of a first-of-its-kind app-enabled system that allows you to check your bags in advance, Rimowa is ushering the suitcase into the digital age.
The Competition
At a mere 7 pounds, with a hard shell that divides neatly into two halves, the 26-inch Topas (from $1,135) is a favorite of perfectionists everywhere. Tumi's Short Trip packing case has a slightly higher cost of $1,195, weighs a half-pound more, has 20 percent less interior volume, and lacks the digital capabilities. An aesthete uninterested in tech-enabled convenience might opt for the Safari 20-inch trolley case from British manufacturer Globe-Trotter, which forgoes an industrial design for leather handles and buckled straps, for $1,613.
The Case
The new Topas feels as light and graceful as the bag always has, like a skillful dance partner to lead across airport floors. Connecting the built-in digital tag to the app via Bluetooth is almost as easy: Check in, and the Topas displays flight info on the side, so you can go straight to the bag drop. It's the rare sort of useful travel innovation, negating the chance of a delayed or lost bag because a label rips or information becomes otherwise illegible, and eliminating time at the terminal. Currently available only on flights with Lufthansa, Eva Air, and Swissair, the technology is due at more airlines soon.
Before it's here, it's on the Bloomberg Terminal.
LEARN MORE