May Says She'll Run for Re-Election. Tories Laugh in Reply
By and
Lame-duck premier's aim was to end rumors about her future

Tory lawmakers laugh at idea she'll lead them in another vote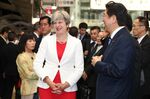 U.K. Prime Minister Theresa May tried to convince people she's no lame duck by insisting she intends to lead her Conservative Party into the next election. Her own lawmakers chuckled at the idea.
After a weekend that saw one newspaper claim to know the date in 2019 when May is planning to quit, the premier jumped at the chance to stop the rumor mill during a visit to Japan. Asked whether she'd still be in her job by 2022, when the next vote is due, her response was unequivocal.
"Yes," she told ITV News in Kyoto on Wednesday. "There's been an awful lot of speculation about my future which has no basis in it whatsoever. I'm in this for the long term. I'm not a quitter."
Problem is no one believes her: the main reaction from lawmakers, speaking privately, was to laugh at the idea. In the run-up to June's snap election, May took the Tory poll lead from 20 percentage points down to 2 points, losing seats -- and her majority -- in Parliament. That formed the impression she would be removed when her own party felt it was the right time.
The consensus among rank-and-file lawmakers and ministers who spoke to Bloomberg on condition of anonymity was that May's answer was aimed at warding off challengers during a particularly delicate time: ahead of a party conference and a summit of European Union leaders that could settle the direction of Brexit. Both are taking place in October.
Justin Fisher, professor of politics at Brunel University in northwest London, agreed.
"To say anything else would be political suicide for her, for the Conservative Party, and actually for Britain, in terms of the extremely lengthy negotiations over Brexit, which will shape the country for years to come," said Fisher. "It's important that the people we're negotiating with don't start wondering whether they're going to be talking to the same people in a few months."
May's lawmakers said the more important statement to them was the private promise she made in the wake of the June 8 election that she would stay on only as long as they wanted her to. That commitment, as well as the absence of an obvious successor, helped to see off any immediate move to dump her.
In the days around that pledge, former Chancellor of the Exchequer George Osborne, fired by May, had delighted in calling her a "dead woman walking,'' while former Education Secretary Nicky Morgan -- also removed from office by the premier -- said she might be gone by the end of the year.
Boris Backing
But Foreign Secretary Boris Johnson, a potential successor who was backed by May earlier in the week after a media onslaught questioning his own competence, pledged his "undivided" support and endorsed the premier's Brexit strategy. Tory lawmaker Jacob Rees-Mogg, a hard-line Brexit supporter, tweeted that "it is right to back Mrs. May and for her to continue."
May repeated her intention to stick around in a news conference in Tokyo with Japan's Shinzo Abe.
"There are real issues we need to be dealing with and I'm there to do it," she told reporters. "Most members of the public would say they want the government to get on with the job and that's exactly what I'm doing."
One minister said privately that the party would be concerned if May's bullishness led to a return to what it saw as an imperial governing style, when her office tried to enforce rigid discipline across the whole of government. Since her humiliation in the election, ministers have asserted their independence.
May would be in danger if lawmakers took her at her word, and history points to notable examples.
Thatcher, Blair
Margaret Thatcher's clear plan to, in her words, "go on and on" meant that once her party had decided that she was an electoral liability, Tory members of Parliament had no choice but to throw her out in 1990. Tony Blair, on the other hand, bought himself a year when his party moved against him in 2006 by promising to leave within 12 months.
Still, not everyone thought May was bluffing. "The prime minister is determined to take our country forward and get a good Brexit outcome," said Tory lawmaker Nadhim Zahawi.
"She is getting on with the job of increasing our global trade," he said. "At home she continues to drive the agenda for responsible enterprise. That gritty determination will, I think, make her the right leader to take our party forward into the next election."
— With assistance by Thomas Penny
Before it's here, it's on the Bloomberg Terminal.
LEARN MORE