Kenya Opposition Says Audit of Electoral System Shows Misuse
By
Opposition coalition says anonymous users gained access

More than 5 million voted on fake forms, opposition claims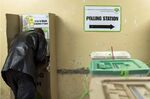 Kenya's main opposition group said an audit of the electoral authority's computer servers found they were accessed by "anonymous users" and that there's no trace of data being submitted by polling stations in this month's presidential election.
The National Super Alliance also alleged in documents submitted to the Supreme Court on Tuesday that scrutiny of the Independent Electoral & Boundaries Commission servers showed Chairman Wafula Chebukati's account was "used multiple times to transfer, delete and modify files." IEBC spokesman Andrew Limo declined to comment.
The alliance has claimed that members of Kenya's ruling Jubilee Party hacked the IEBC's system to ensure President Uhuru Kenyatta won a second term in elections on Aug. 8 and the court this week ordered the IEBC to allow the opposition to scrutinize its servers. Kenyatta's legal team has argued that he won the election fairly.
Alliance leader Raila Odinga has failed on three previous attempts to win the presidency in Kenya, the world's largest shipper of black tea and a regional hub for companies including Google Inc. and Coca-Cola Co. A dispute over the outcome of a 2007 election triggered two months of violence that left more than 1,100 people dead.
The court's seven-judge panel will make a ruling by Sept. 1 on the opposition's petition to annul the election result. Should Kenyatta's victory be overturned, the East African nation would have to hold new elections within 60 days.
Modified Documents
The alliance said its partial audit of the IEBC's servers found that some data from polling stations couldn't be traced. In other cases, voting documents were uploaded and deleted and others were "renamed and modified," according to the submission.
"Different file formats were uploaded on the server, which shows there were no input controls," the alliance said. "Some files were in editable formats."
Teams auditing the servers were granted partial read-only access with no "copy capability," while access to system or database logs wasn't provided, according to a report compiled by information technology experts appointed by the court as part of the probe team. The IEBC didn't make available scanned and transmitted copies of vote-result forms despite the court order, it said. Some documents submitted to audit teams "were not certified" and don't conform to election technology regulations, the report found.
In a separate verification exercise of voting forms ordered by the Supreme Court, the opposition claimed that more than 5.3 million people voted on forms that didn't bear the electoral body's watermarks and serial numbers, and hadn't been officially stamped.
Before it's here, it's on the Bloomberg Terminal.
LEARN MORE