Japan Unimpressed With May's Brexit But 'Too Polite' to Say So
By
Prime minister sits down for elaborate tea ceremony with Abe

Meetings include business, defense officials, Emperor Akihito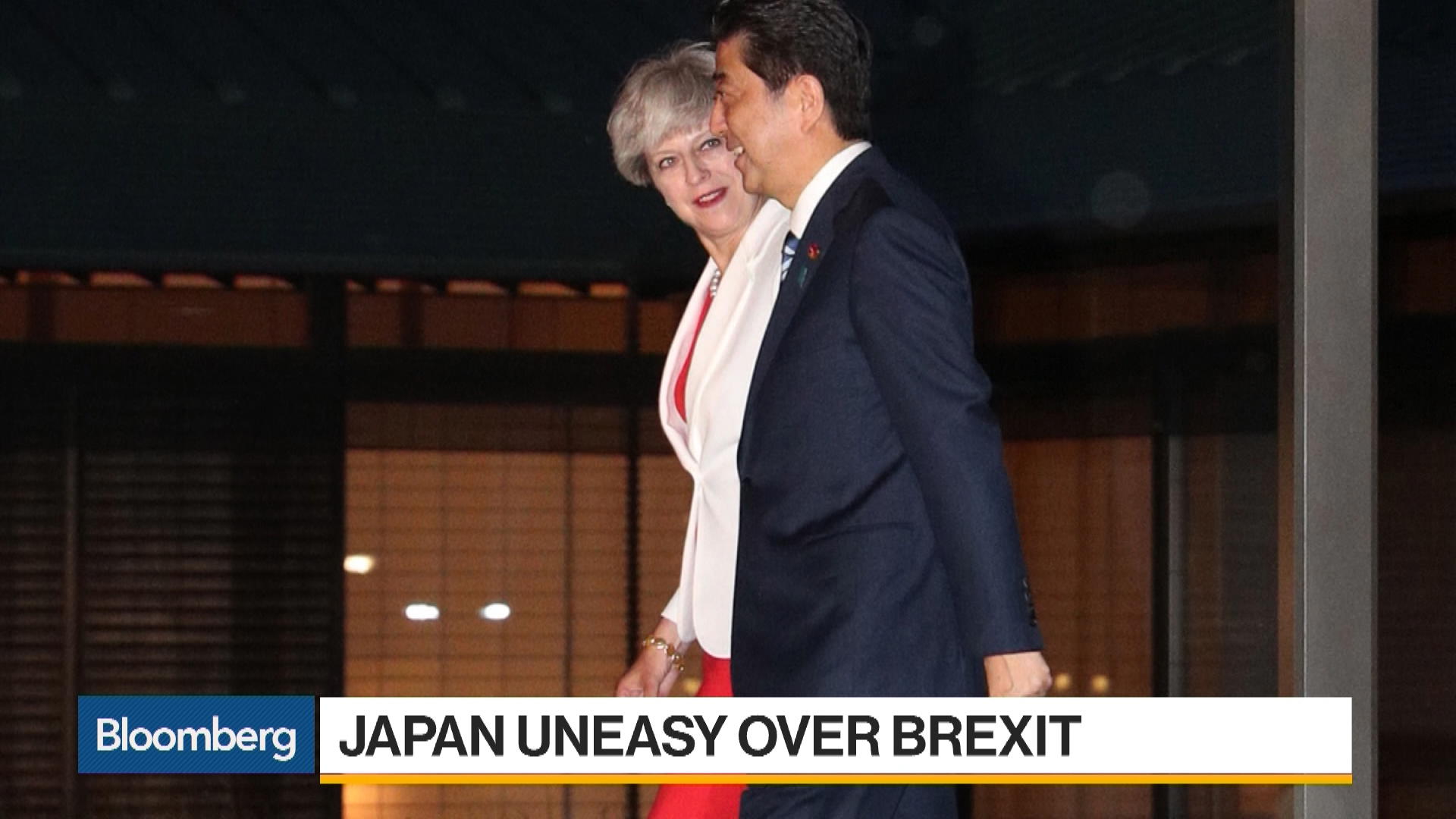 Follow @Brexit for all the latest news, and sign up to our daily Brexit Bulletin newsletter.
Theresa May got a taste of Japanese restraint and formality during a tea ceremony with Prime Minister Shinzo Abe. What might be lost in translation is how unimpressed a key U.K. trade partner is with how the premier is conducting Brexit.
Her lofty goal of convincing the world's third-biggest economy to use its trade deal with the European Union as a basis for a future agreement with Britain may not be rejected outright -- but observers reading the tea leaves see unmistakable signs of discomfort with how Britain is going about the divorce.
"I don't see it as a simple matter, taking one text and translating it into a bilateral agreement," Britain's former ambassador to Japan, David Warren, told Bloomberg Radio. "I think it would be a little more complicated than that."

He said May's hosts had grave doubts about Brexit: "The Japanese simply don't understand why we're doing this. They're far too polite to say so publicly." Tomohiko Taniguchi, a special adviser to Abe, picked his words carefully when speaking to BBC Radio: "A sense of crisis may be a little bit of a strong word. There certainly exists a sense of uneasiness."
Japan is in the final stages of brokering a free-trade agreement with the world's largest trading bloc, from which the U.K. is breaking away. That puts May in a difficult position, as her own predecessor hailed it as a landmark that would add an annual 5 billion pounds ($6.5 billion) to the U.K. economy.
Special Niche
With Softbank Group's purchase of ARM Holdings Plc and factory expansions by Nissan Motor Co. and Toyota Motor Corp., Japan is eager for reassurances -- and the U.K. has been quick to try to provide them. There are 1,000 Japanese companies in the U.K. that employ some 140,000 workers.
"Britain has always cut a special niche for Japan," Taniguchi told the BBC, adding that Japanese businessmen "are telling themselves now is the time to see what's happening down the road, rather than jumping into an uneasy conclusion."
That wait-and-see attitude will buy May a grace period as she works through the details of what a transition will look like when the U.K. parts ways with the EU in early 2019.
In Brussels, her negotiators are deadlocked in talks with their EU counterparts. Abe has told her in the past that he attaches "extreme importance" to U.K. relations, reminding her of the extent of Japan's investment there.
Red and White
On May's first visit to Japan, Abe welcomed her to the former imperial capital of Kyoto as she emerged from a black car wearing a string of pearls and her trademark leopard print heels.
Inside the small wooden teahouse they removed their shoes and sat on a low bench as May was initiated into the 16th century ritual. She cupped the bowl in her hands and lifted it to her face a few times to finish the tea, before rotating the bowl slowly in her hands. Abe said "very good."
In a diplomatic overture, May wore a red and white ensemble, the colors of the Japanese flag. May is now in Tokyo, where on Thursday she'll address U.K. and Japanese business leaders including executives from Nissan, Toyota and Hitachi who will be eager for facetime.
"This is a formative period in shaping the future of my country - and as we leave the European Union I am determined that we will seize the opportunity to become an ever more outward-looking Global Britain, deepening our trade relations with old friends and new allies around the world," May is expected to say, according to excerpt released from her office.
— With assistance by Robert Hutton
Before it's here, it's on the Bloomberg Terminal.
LEARN MORE