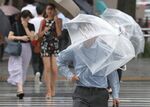 As one of Japan's wettest summers in years comes to a close, it may mean higher prices for some fruit and vegetables -- which are excluded from the benchmark inflation index that the central bank is trying to nudge higher.
Some economists think that struggling households hit by rising food bills could respond by trimming spending in other areas, putting a temporary dampener on overall price growth.
Following a scorching-hot July, Tokyo had 21-straight days of rain from the beginning of August, just shy of a record set in 1977, according to the Japan Meteorological Agency. The northern city of Sendai suffered 36 consecutive days of precipitation, prompting the prefectural government to warn farmers in the region about the risk of rice blight due to the lack of sunshine.
Ain't No Sunshine

"This boosts deflationary pressure for the Bank of Japan because consumer spending falls when fresh food prices rise," said Masamichi Adachi, a senior economist at JPMorgan Securities Japan Co. and a former BOJ official. "It's natural to think consumer spending declined in August."
The brokerage forecasts real private consumption will fall 0.1 percent in the three months through September, after rising 0.9 percent in the second quarter. On an annualized basis, JPMorgan Securities projects a 0.5 percent drop, down from a 3.7 percent gain.
To be sure, fresh food is only one of many elements that may weigh on spending this quarter, and July data showed retail sales rose more than expected as the hot weather increased the sales of items like air conditioners.
Yet the willingness of Japanese consumers to open their pocketbooks is key to shoring up the current run of economic growth, which until recently has relied heavily on exports.
Pessimistic Households

The wholesale price of vegetables rose 5 percent in mid August from a year ago, while the volume dropped 13 percent, according to the Ministry of Agriculture, Forestry and Fisheries. Price gains were bigger among some summer produce, with cucumbers jumping 62 percent and eggplants surging 54 percent.
"This makes people feel that their life is getting harder," said Junko Sakuyama, senior economist at Dai-ichi Life Research Institute in Tokyo. "Current consumption isn't on a firm footing because it's not based on a recovery in income."
The latest reading on Japan's core inflation showed a 0.5 percent gain year-on-year in July, far short of the 2 percent goal. Data for August is due on Sept. 29.
Still Undershooting

Before it's here, it's on the Bloomberg Terminal.
LEARN MORE