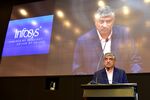 It's not often that corporations have coups. But that's what just happened at Infosys Ltd., Asia's second-largest computer-services company and the first Indian company to list on the Nasdaq stock exchange. A public spat between the board and its founders, led by ex-chairman N.R. Narayana Murthy, ended Aug. 25 with a co-founder, Nandan Nilekani, returning as board chairman amid a spate of board exits. A week earlier, Vishal Sikka had resigned as chief executive officer, citing founder interference. It's the second time in 10 months that India's venerable business titans have meddled -- and prevailed -- on their former patches.
1. Where else has this played out?
Recall the shock coup at Tata Sons last year, when the founding-family scion, Ratan Tata, unexpectedly returned to replace Cyrus Mistry, his successor as chairman. The Tata Sons board cited a "trust deficit" for ousting Mistry and reinstating Tata.
2. What happened at Infosys?
Last year, a spat between the founders and the board spilled into the open. Murthy and other co-founders had been sparring with the board over corporate governance and executive pay. Murthy and his allies sent the board a letter questioning Sikka's increased compensation -- his total package was $6.75 million for fiscal 2017 -- and severance packages for two departing executives.
3. How did matters escalate?
The clouds seemed to have lifted in February when Murthy, 71, called off his fight with the board, saying he was confident it would deal with his concerns. The storm was just getting going, in reality. The latest (and final) salvo arrived Aug. 18, when the Mint financial newspaper reported that Murthy had sent an email to advisers in which he cited independent directors as saying Sikka was more chief technology officer material than CEO material. Within hours, Sikka was gone. His resignation took many investors by surprise; Infosys lost more than $3 billion in market value that day. Sikka wrote on his blog that he had decided to throw in the towel rather than grapple with unspecified distractions that had created "an untenable atmosphere."
4. Are the founders ready to let go now?
Not at all. Since Murthy's two decades as CEO ended in 2002, four founders have taken turns at the helm in what is dubbed "Infosys dynastic rule." Murthy returned unexpectedly in 2013 before handing control to Sikka, 50, in August 2014 as the first non-founder CEO. All the founders had left the board and it appeared they were ready to let go. Sikka was even reappointed last year to a five-year contract. But Indian founders aren't "very good" at relinquishing control of their companies and are unable to "cut the umbilical cords," says Asian Markets Securities analyst Shradha Agrawal. Now that one of the founders has returned, the cohort is looking to secure control, possibly by getting other founders named to the board.
5. What's next for Infosys?

The return of 62-year-old Nilekani, a decade after he departed, as non-executive chairman is only the first step in putting Infosys back on solid ground. Nilekani is well regarded: He was a successful Infosys CEO and he later built India's massive biometric identity system, which has now enrolled 1.1 billion people. With Nilekani bringing stability to the board, the company now will have to find its next CEO. Potential candidates include current and former executives, some of whom got fed up waiting and moved elsewhere while the founders rotated through the top office.
6. Did Sikka fail as CEO?
Judging by the metrics, no. Infosys shares gained about 21 percent during Sikka's tenure, outperforming its biggest rivals. He improved margins and the company's cash position and he stemmed attrition. With his Stanford University PhD in computer science, Sikka was hired to reverse four straight years of narrowing profit margins and to reshape the business model. Instead of charging customers such as Goldman Sachs Group Inc. for time spent by technicians building and managing computer systems, Infosys set out to fashion automated software and tools that would solve problems with less human intervention. But the company now faces several challenges.

7. Will a new CEO be able to fix the problems?
Hiring a new CEO will only be the start. Infosys will have to redo its strategy to suit a new information-technology services environment. Shifting customer demands, automation and artificial intelligence are changing the nature of IT services contracts.
8. Why did the shares tank and bounce back?
Sikka's departure may have been expected by some, but not so soon. It leaves India's (and Asia's) No. 2 software services exporter scrambling to find a replacement at a time when the industry is struggling to transition to internet- and data-based computing. And, in common with its larger rival Tata Consultancy Services Ltd., Infosys faces the challenge of a U.S. administration that's making it harder to source the work visas required to serve key clients in its biggest market. The shares recovered smartly on news that Nilekani, who has the reputation of being a doer, has taken charge.
The Reference Shelf
Before it's here, it's on the Bloomberg Terminal.
LEARN MORE