Hot Hand in Stock Picking Belongs to Shorts Even as S&P 500 Hums
By
Never before have bears hung out during a rally like this year

Yet energy, retailer losses show betting against them paid off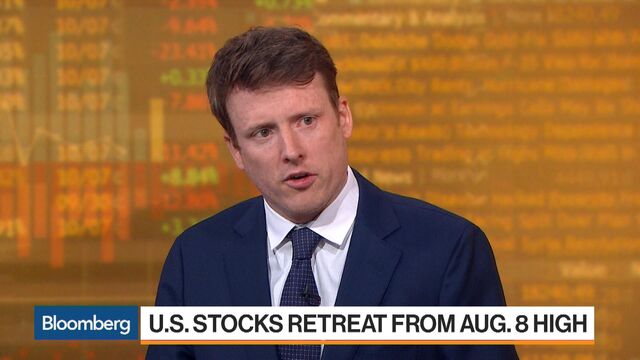 Selling short in a rallying market looks reckless, but in 2017 bears are not only resisting the rising tide but thriving in it.
Exchange data shows they've increased bearish wagers to the highest level since November. That alone is notable: not since the bull market began has an advance like this year's 9 percent jump in the S&P 500 failed to result in an epidemic of covering.

There's more. While it may be tempting to blame that persistence for the inability of hedge funds to beat benchmarks, there's reason to believe it's not the case now. That's because an unusually large number of stocks are falling, and bears are doing an unusually good job finding them.
"If you go deeper into the weeds, there have been more fragile sectors, stocks that provide opportunistic short sales," said Tom Stringfellow, president and chief investment officer of Frost Investment Advisors who helps oversee $4 billion in San Antonio, Texas. "That tells me that short sellers are sitting very comfortable and probably in no rush to try and cover."
Indeed, from oil producers to retailers, stocks most heavily targeted by bears are the worst performers this year.
Short sellers sell borrowed shares hoping to buy them back at a lower price. When shares go up, they're forced to buy to limit losses. As a result, anyone doing it has paid dearly during an 8 1/2-year advance in which the S&P 500 tripled. It's one reason hedge funds trail long-only indexes in a bull market.
But that hasn't stopped bears from trying, and this year -- despite rising indexes -- the market is proving more cooperative. While the Russell 3000 Index is up 9 percent, 45 percent of its members are lower. At this time last year, though the market had a smaller gain, fewer stocks were down.
Short interest is up in 2017. As a proportion of total shares available for trading, it's climbed by 0.4 percentage point to 4 percent.

Big losers stand out, and bears got them right. Take energy companies, whose short interest has risen this year by the most among 11 S&P 500 sectors behind consumer discretionary. Down 12 percent over past six months, the industry's decline is almost twice as much as the next-worst group. Good news for bears, who boosted energy's short sales to 5.5 percent of total shares available for trading.
Retailers are another group where skeptics pushed. At 9.6 percent, short interest as a percentage of float has risen 2.6 percentage points since January. As online giant Amazon.com Inc. continues to expand and take market share from traditional brick-and-mortar store operators, the group is down 12 percent, poised for the worst annual decline since the financial crisis.
It's true elsewhere. In fact, among Russell 3000 stocks with at least 10 percent short interest, the median company has lost 2.5 percent in 2017. For those with more than 20 percent, the median retreat is 4.8 percent. For those over 40 percent, it's 12 percent.
Not that it's turned everything around for hedge funds. But short books may not be the drags they were in the past. Those with a focus on equities have returned 7.6 percent this year through July, according to data from Hedge Fund Research Inc., the narrowest S&P 500 underperformance in seven years behind 2015.
Before it's here, it's on the Bloomberg Terminal.
LEARN MORE