Harvey's Havoc Gives U.S. Gas Traders Three Reasons to Be Bears
By
Storm pummels demand amid cooler weather and power failures

Harvey could disrupt LNG exports along the Gulf Coast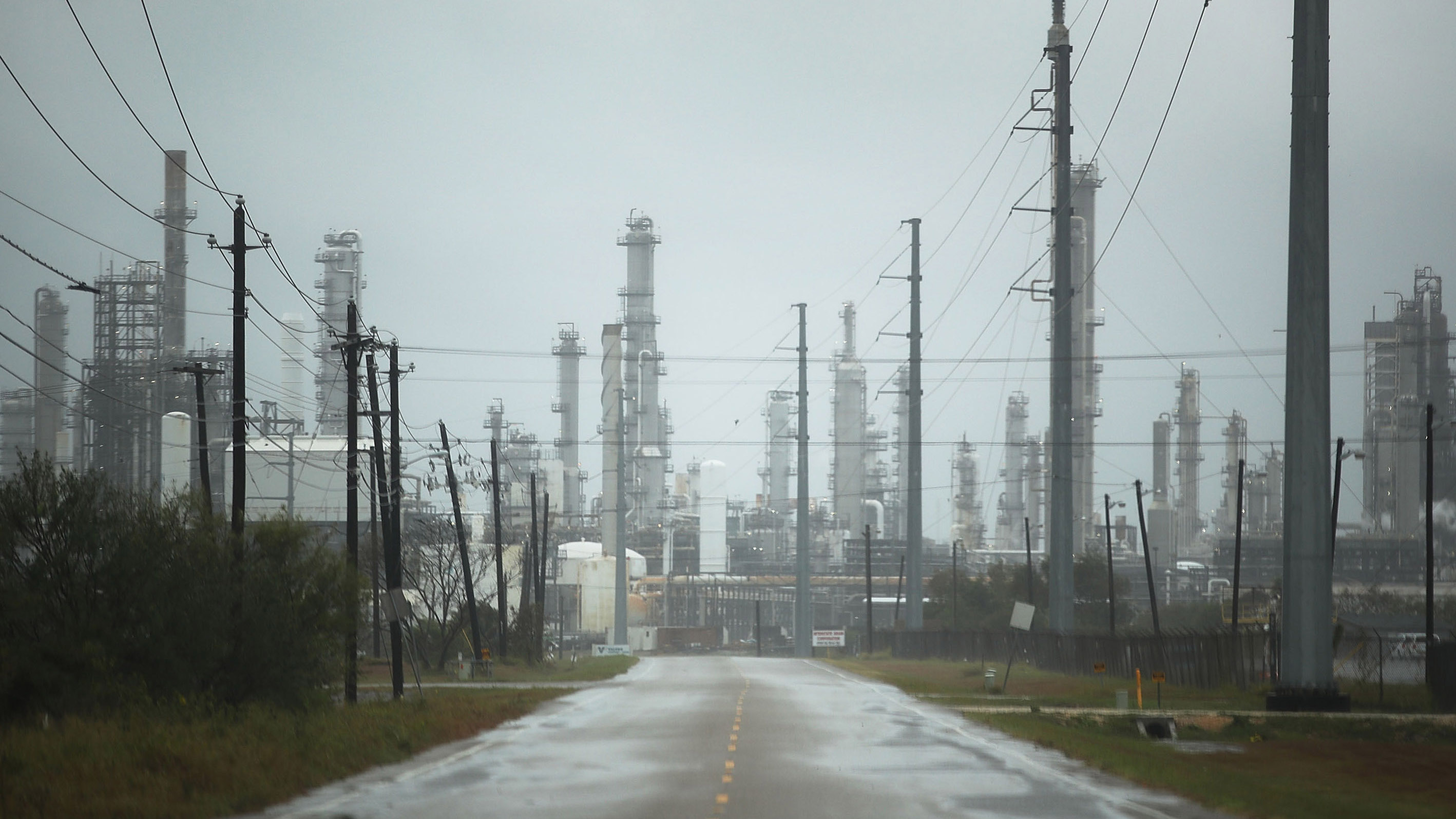 Tropical Storm Harvey's devastation is giving the U.S. natural gas market at least three reasons to bet on a decline in prices for the fuel.
Power Loss
Harvey has left about 300,000 people in Texas and Louisiana without electricity, cutting about 2.4 billion cubic feet a day of gas demand for power, said Het Shah, an analyst at Bloomberg New Energy Finance. The storm has also brought cool, rainy weather to the region, trimming power plants' consumption of the fuel as people leave their air conditioners off.
The high in Houston on Aug. 29 was 74 degrees Fahrenheit (23 Celsius), 20 degrees below normal for the time of year, according to AccuWeather Inc. Milder weather is also blanketing the Midwest and East Coast, sending electricity generators' gas demand tumbling 15 percent from a year ago.
Factoring in flooding at industrial plants that use gas to produce chemicals, there's been a drop of more than 5 billion cubic feet a day in gas consumption, according to analysts at Citigroup Inc. led by Anthony Yuen. Production slid about 2.4 billion cubic feet a day, Citigroup said, as drillers in the Eagle Ford shale basin cut output.
"There's a lot of commercial and industrial customers down right now and those will take a long period of time to come back up," meaning it could be three to four weeks for some to fully recover, said Neel Mitra, director of utilities and power research at Tudor Pickering Holt & Co. in Houston.
Gas for October delivery slipped 2.6 cents to $2.935 per million British thermal units at 1 p.m. in New York. Futures are down 21 percent this year.
Export Threat
Though Cheniere Energy Inc. said Harvey didn't halt production of liquefied natural gas at its Sabine Pass terminal in Louisiana -- the only facility exporting LNG from the U.S. -- output of the super-chilled fuel may cease by the end of the week unless the weather clears enough to resume vessel boarding. Two tankers are waiting just offshore of the terminal.

Energy data provider Genscape Inc. estimated Tuesday that Sabine Pass had two days to load a ship before its storage tanks are full. Gas deliveries to the plant dropped 17 percent Wednesday, the most in a week.
The "Sabine Pass facility is working fine, but they can't get any ships in the port, so they can't actually export that gas," Mitra said.
Harvey has also reduced U.S. gas exports to Mexico via pipeline. Mexico's state-owned Petroleos Mexicanos asked customers in the country to consume about 10 percent less natural gas over the weekend because of supply shortages due to Harvey, according to a company spokesman who declined to be identified, citing internal policy. Consumption is now returning to normal, the spokesman said.
U.S. gas pipeline shipments to Mexico via pipeline rose to a record earlier this year, based on Bloomberg estimates, and have started to recover after dropping 16 percent on Aug. 25.
Supply Glut
The storm's destruction couldn't come at a worse time for gas bulls. Though a gas inventory surplus to normal levels has almost vanished, Harvey's blow to demand may lead to bigger weekly increases in storage, leaving the glut that's persisted for most of the past two years intact.

Seasonal gas use in the electricity sector, meanwhile, is poised to decline as autumn begins. Last year, consumption of the fuel by power generators tumbled 31 percent from September to October, data from PointLogic Energy show.
The loss of demand from Harvey "means we'll build up storage faster, and that's bearish for future prices," Tudor Pickering's Mitra said.
— With assistance by Naureen S Malik, and Amy Stillman
Before it's here, it's on the Bloomberg Terminal.
LEARN MORE