Harvey May Spur Congress to Avoid Shutdown, Debt-Ceiling Fights
By
Emergency aid may be added to fiscal measures in September

Combined bill could delay fight over Trump's border-wall funds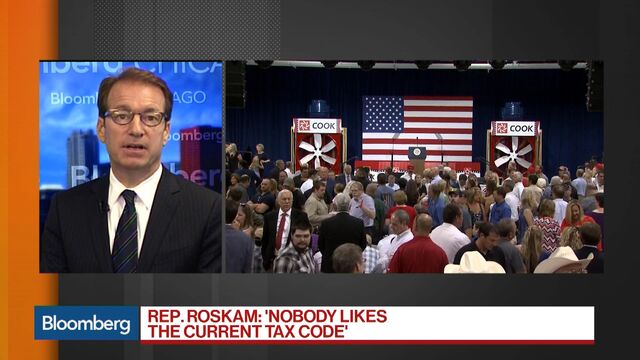 Hurricane Harvey may help Congress delay a possible U.S. government shutdown and avoid a costly fight over raising the debt ceiling.
Congress is seen as likely to combine emergency aid for Harvey victims in September with stopgap government funding and a debt-limit increase. That could help Republican leaders persuade President Donald Trump and restive conservatives to put off major fiscal battles that could distract from the top GOP goal of a tax overhaul by the end of the year.
"If there is going to be a shutdown fight it would be December or January," House Freedom Caucus Chairman Mark Meadows of North Carolina told ABC News on Tuesday. "Not in September and certainly not along with the disaster we are having in Texas."
Trump last week threatened an Oct. 1 government shutdown if Democrats don't agree to his demand for $1.6 billion in funding for a wall on the border with Mexico. Now the president is asking lawmakers to quickly approve emergency funds for Harvey victims.
Republicans were already tentatively planning to combine a debt-ceiling increase with a short-term spending bill to keep the government open. Adding the Harvey aid could make the bill politically impossible to veto, even if lawmakers omit money for a border wall. 
And delaying a fight over the wall to a future spending bill would lessen the possible impact of a fiscal showdown if a long-term debt-limit increase has already been enacted in September. The Congressional Budget Office estimates the government will reach its borrowing limit sometime in October.
There still could be turbulence along the way. Conservatives, for example, are likely to bristle at what could be included in the financial bills. Representative Dave Brat of Virginia said in an interview Wednesday that the idea of combining the bills "has everything you want except Republican fiscal responsibility."
Saving Face
A House Democratic staff member said enacting Harvey aid could let Trump save face when signing a temporary bill that omits wall money. A Senate Democratic aide concurred, while warning that a shutdown is still possible given Trump's past statements on the wall.
Goldman Sachs Group Inc. said in a research note to clients Tuesday that the chance of a government shutdown has decreased to 35 percent from the earlier estimate of 50 percent it made before Harvey dumped 50 inches of rain on Houston.
Avoiding major fiscal fights would be a relief to the wider economy.
"Failure to raise the debt limit would likely be more catastrophic to the economy than the 2008 failure of Lehman Brothers and would erase many of the gains of the subsequent recovery," said S&P Chief Economist Beth Ann Bovino.
S&P Global economists also predicted Wednesday that a government shutdown would shave about 0.2 percentage point off the real fourth-quarter GDP for each week it continues.
Harvey Recovery
A government shutdown would hinder agencies charged with Harvey recovery, making it even more politically unpalatable than usual, said Jim Dyer, a former legislative affairs official for Presidents Ronald Reagan and George H.W. Bush. He is now an appropriations lobbyist with the Podesta Group.
"It's a game-changer," Dyer said. "It's not just FEMA that is involved in the recovery, it's housing, the small business administration, agriculture. All of them would be affected by a shutdown." FEMA is the Federal Emergency Management Agency.
Some conservatives, who in the past have demanded spending reductions in exchange for emergency disaster aid, say they're willing to forgo the cuts this time.
Meadows told ABC he won't be seeking spending cuts to offset Harvey aid. He said he believes most conservatives agree, and that they also would vote for a stopgap government-funding bill that doesn't include money for the border wall.
Meadows's comments are in contrast with two conservative interest groups, Heritage Action and Club for Growth, which said this week they want spending cuts to offset Harvey aid.
Houston-area Republican Representative John Culberson told C-Span he's optimistic a package will come together.
"I'm confident we will get emergency appropriations passed quickly with broad bipartisan support," he said, though he added it's too early to set a cost. Houston-area Democratic Representative Sheila Jackson Lee said she wants $150 billion, a figure unlikely to be approved, at least in an initial aid plan.
Combination Bill
While Republicans in Congress haven't settled on a September legislative strategy, a combination bill is viewed as increasingly likely. For House Speaker Paul Ryan of Wisconsin, the challenge will be finding a bill that doesn't cause too many conservative defections.
The trickiest part may be attaching the debt-limit increase. Conservatives, including Meadows and Republican Study Committee Chairman Mark Walker of North Carolina, say they want to attach spending cuts or budget-process changes to a debt-limit increase.
That means Ryan is likley to need Democratic votes. Senate Majority Leader Mitch McConnell of Kentucky also will need support from Democrats to get legislation through his chamber.
Brat said that if tax-code changes are proceeding and contain deep rate cuts, he could be persuaded to vote for a combination fiscal deal.
"We've got to help the victims of Harvey, we've got to raise the debt ceiling, but where is the responsibility for not leaving a fiscal mess to our children and grandchildren?" Brat said.
— With assistance by Anna Edgerton
Before it's here, it's on the Bloomberg Terminal.
LEARN MORE