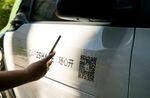 When is something money and not just a cowrie shell? When you can pay taxes with it. Or that's the argument of chartalists, the folks who see the state's hand behind the origins of all manner of money.
So don't be surprised if in a couple of years, the tax authorities in Singapore send a QR code with their annual bill. Scan this modern-day cowrie shell, and you'll get a thank-you SMS for contributing to nation-building.
The city-state's enthusiasm for the mobile-readable quick response code can be gauged from a task force set up this week by the central bank's payments council. The goal is to have the specifications for a common QR code for Singapore ready by the end of 2017. Interestingly, all three local banks -- DBS Group Holdings Ltd., Oversea-Chinese Banking Corp. and United Overseas Bank Ltd. -- are part of this group, as is FOMO Pay, a startup that helps merchants accept WeChat and Baidu Wallet payments from Chinese customers.

Are the Singapore banks being invited to dance at their own funeral? The Chinese today do $5.5 trillion of mobile payments annually, with bridesmaids wearing codes to collect wedding gifts, according to this report in the South China Morning Post. That world-leading digital payment revolution, however, is driven by Tencent Holdings Ltd., Baidu Inc. and Alibaba Group Holding Ltd., and not by any bank.
Now that Singapore (population 5.6 million) has decided to follow suit, it's hard to say if customers will be keen to rebuild their rollover credit-card balances, which peaked at almost S$5.8 billion ($4.3 billion) in early 2015, and have tapered off by 10 percent since then. Easy money isn't the only thing at risk here: Losing dominance in payments could also mean losing customers to rival offerings in everything from wealth management to insurance.

It's not as if the authorities have an option, though. A QR code shared by banks has already been established in less financially developed Asian countries like Thailand and India. Merely staying ahead of its traditional rival, Hong Kong, would be a mistake when the latter, too, is at risk of falling behind. (And curiously so, considering that, Hong Kong, unlike Singapore, doesn't have big banking interests of its own to protect. 1 )

After telecom, media and transport, banking will be be the next Singapore industry to be disrupted. StarHub Ltd., the worst-performing stock on the Straits Times Index in the past year, has had its pay-TV business walloped by Netflix Inc. Third from bottom is ComfortDelgro Corp. The fact that Comfort shares jumped the most in almost nine years last week after the city's biggest taxi operator said it was in talks with Uber Technologies Inc. for a partnership shows how seriously investors are taking the threat from ride-hailing apps.
Now the BAT trinity -- Baidu, Alibaba and Tencent -- is threatening banks with creative destruction. Before Singaporean bridesmaids (or tax bills) start displaying black squares on a white background, DBS, OCBC and UOB need a quick response of their own.
Before it's here, it's on the Bloomberg Terminal.
LEARN MORE