BofA CEO Says He's Confident Clients Will Pay for Research
By and
Trading this quarter is 'solid,' Moynihan says in interview

Tax reform needed in 'fight' to boost U.S. growth to 3% a year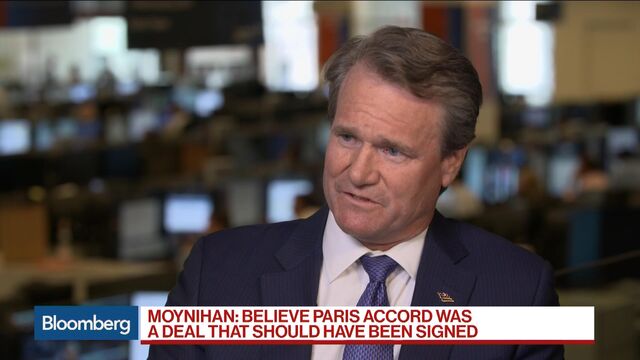 Bank of America Corp. is confident clients will pay as much as $80,000 per user for its research after a European ban on free bundled content goes into effect, Chief Executive Officer Brian Moynihan said.
"I'm sure that people will pay us for that," Moynihan said Wednesday in an interview with Bloomberg Television. They'll pay up "because that's how they're going to have to get it."
Investment banks are in talks with money-manager clients over how to charge them for research once new European Union regulations known as MiFID II ban the free distribution of analyst notes and other services, starting next year. The Markets in Financial Instruments Directive requires money managers to separate the trading commissions they pay from investment-research fees.
Bank of America, based in Charlotte, North Carolina, will provide a premium package that includes speaking directly to analysts, attending conferences and meeting senior executives of major companies and policy makers, according to an offer sent to clients earlier this month. Customers opting for the premium offer will pay from $15,000 to $80,000 depending on how much they tap those services.
Read more about how MiFID II will upend investment research
In the wide-ranging interview, Moynihan also said third-quarter trading results were "solid," though he declined to forecast whether revenue will increase from last year.
"You have to remember the whole quarter is made in September, so we've got a while to go," Moynihan said. "It's OK."
Moynihan repeated an appeal he first made just days into Donald Trump's presidency that Washington should focus on reforming the U.S. tax code. He said Wednesday that efforts to rewrite tax policies -- for both businesses and individuals -- have more support than other priorities of the Trump administration.
"Of all the issues that have come up so far, this one has more of a unified group of people that are saying, 'We've got to do this. It's so obvious we're not competitive,'" he said. 
Tax reform could help the U.S. achieve sustained growth of 3 percent in gross domestic product, Moynihan said. U.S. GDP rose an annualized 3 percent in the second quarter, according to revised figures released Wednesday. Still, the nation will have a "fight" to continue that growth, Moynihan said.
"You've got to give people reasons to be optimistic," he said. "It's going to take some more enthusiasm and a little bit more drive to get it to 3 percent."
Watch Next: BofA's Moynihan Says Business 'Solid,' Loan Demand 'OK'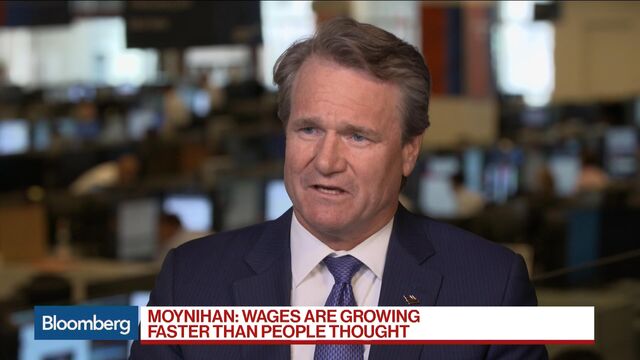 Before it's here, it's on the Bloomberg Terminal.
LEARN MORE