Ashley's Latest Lawsuit Moves From the Pub to the Golf Course
By
Ashley invested 3 million pounds for golf course holding

Tony Jimenez calls Ashley's suit 'malicious fiction'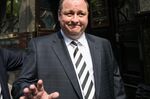 In Mike Ashley's last court case, we found out what an evening in the pub with him was like. Now, we might pick up a few tips on his golf game.
Ashley, the billionaire owner of Sports Direct, sued his "trusted friend" and former co-owner of Charlton Athletic Football Club, saying he lured him into a fraudulent 3 million-pound ($3.9 million) investment in a French golf course.
Tony Jimenez brought the investment opportunity to Ashley during a 2008 meeting at the offices of Newcastle United Football Club. The men orally agreed that in return for the 3 million pound investment in the Loire region of France Ashley would get a 5 percent holding in the course's owner, Ashley said in court documents made public last week.
The Newcastle United owner transferred the money in May 2008 to be held in a Cyprus trust controlled by Jimenez which then would be invested into the golf course, described as the Augusta of Europe by the sports media. The investment was never made on Ashley's behalf, his lawyers said in documents.
"Jimenez was not soliciting a genuine investment from Mr. Ashley," his lawyers said. "He was practicing a deliberate fraud," and "took the investment for himself."
Jimenez rejected Ashley's allegations, accusing him of concocting a "malicious fiction." The funds were never transferred and the claim will be "vigorously defended," he said in an emailed statement.
"Mike Ashley will regret the day he embarked on this action and now seeks to reopen events from 2008," Jimenez said. "His claim is without foundation and his allegations are entirely untrue."
Mike Ashley School of Management: Drink, Gamble, Under-Table Nap
It's not the first time a London judge has been asked to resolve an oral agreement involving Ashley. Last month he won a lawsuit filed by a former employee's claim that the retail tycoon made a legally binding 15 million-pound bonus deal in a London pub.
The trial generated headlines in U.K. newspapers with tales of Ashley's drinking competitions during management sessions and napping during client meetings. The case was an unwelcome distraction for Ashley as he tries to resurrect growth at Sports Direct after a dismal 18 months.
Jimenez lost a 2013 suit against ex-professional soccer player Dennis Wise over a 500,000 pound-investment in the same golf course when a trial judge said the London-born businessman was "guilty of considerable obfuscation."
The case is Ashley v. Jimenez in the U.K. High Court of Justice, Chancery Division case no HC-2017-000156
Before it's here, it's on the Bloomberg Terminal.
LEARN MORE