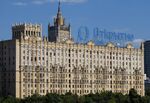 Bank Otkritie FC, once Russia's largest private bank, is getting a bailout that will turn the country's central bank into its largest investor. The high-flying lender has had a rough couple of months. In June and July it lost $7.4 billion in deposits. Then, following the collapse of a smaller competitor, a wave of rumors on social media questioning the bank's stability grew so intense that Vadim Belyaev, its largest shareholder at the time, was forced to address them. He returned to the helm to calm market nerves, but talks with a potential investor over a significant capital injection apparently failed to yield results. So the Bank of Russia stepped in.
1. How did Otkritie get so big?
Expensive acquisitions and an aggressive expansion strategy pushed it into the top 10 among Russian banks, but didn't ensure profits. It burst on the banking scene with its 2012 acquisition of Nomos Bank, one of Russia's largest private lenders. It expanded throughout the recent banking crisis while most competitors were retrenching, receiving 127 billion rubles in central bank funding to bail out a top-20 deposit holder, National Bank Trust. But the coup de grace was in 2014 when it bought over 800 billion rubles of Russia's 2030 Eurobond -- 74 percent of the issue -- making it the largest private bank overnight. It continues to grow aggressively, with a planned takeover this year of Russia's largest insurer, in a move that S&P Global Ratings warns would erode its capital adequacy.
2. How did it get into such trouble?
Even before a poor score from Russia's ACRA rating agency in July sent Otkritie's Eurobond yields soaring, customers were pulling deposits. Outflows reached 433 billion rubles in June and July as the Bank of Russia's ongoing cleanup of the financial sector made Otkritie's clients nervous. The regulator has yanked one in three banking licenses since 2014, including the country's 15th-largest holder of individual savings in late July. And if that wasn't bad enough, a large part of Otkritie's ATM network crashed this month after road work in Moscow knocked out two vital cables. On Aug. 29, the central bank said Otkritie's capital was inadequate given the risks it was taking, including the acquisition of the insurer.
3. What happens next?
Ranked eighth by assets, Otkritie is officially designated a "systemically important" bank --- essentially meaning it's too big to fail. The Bank of Russia said it will take a stake of at least 75 percent in the lender, using money from a newly created government fund for sick banks, and ensure it continues to operate. It said it will take a few months just to figure out how big the shortfall in capital is. The whole process of recovery will last about 6-8 months, the central bank said.
4. Should investors and depositors be worried?
The central bank said it will ensure that Otkritie continues to operate and meet its obligations to customers. The central bank said it's not imposing a moratorium on payments to creditors and won't force a bail-in that would mean lenders would see the value of their holdings reduced. But the central bank said current shareholders will wind up with no more than 25 percent of the bank once the recovery process is complete -- and could be wiped out entirely if its capital turns out to be negative -- and subordinated debt could be written off or converted into equity if capital levels are inadequate.
5. Who owns the bank?
A motley crew of Russian magnates. Otkritie  -- which means "opening" or "discovery" in Russian -- has a shareholder structure that's unusually diverse for Russia, where minority owners' interests are usually viewed as expendable. Belyaev owns 29 percent of Otkritie Holding, which in turn had a controlling stake in the bank -- until the central bank's move Tuesday. Other large shareholders include Lukoil PJSC billionaires Vagit Alekperov and Leonid Fedun, Alexander Nesis' ICT Holding, Ruben Aganbegyan and Alexander Mamut. State-owned VTB Group, which is among the companies targeted by U.S. and European Union sanctions against Russia, owns 10 percent of Otkritie's holding company, having received its stake after a loan went south in the 2008 financial crisis.
6. What's Otkritie's relationship to VTB?
In Russia, even private business isn't immune to pressure from the state. However, management at both banks deny that there's anything beyond the 10 percent stake VTB owns in Otkritie Holding. VTB financed the 2012 deal that made Otkritie a major player. It sold part of RCB Bank Ltd. in 2014 to Otkritie, reducing its share in the Cyprus bank to less than 50 percent after western sanctions were imposed. VTB also was the brains behind a secret 1 trillion-ruble reverse repo deal with Rosneft in 2014 that netted Otkritie a fortune.
7. Who is Belyaev?
Belyaev, 51, cut his teeth in business as a teen selling imported watches back when it could have landed him in a Soviet prison. He has been in banking for two decades, with his big break coming when he started Otkritie with billionaire Boris Mints. Belyaev keeps out of the limelight compared to other heads of large banks, and defined himself as a "risk taker" rather than an investment banker in a 2015 interview when he was awarded GQ Russia's Businessman of the Year. While he stepped back from day-to-day management in 2014, as of this month he is back in the driver's seat at Otkritie.
The Reference Shelf
— With assistance by Anna Baraulina
Quotes from this Article
Before it's here, it's on the Bloomberg Terminal.
LEARN MORE