Remarks
Uber's Problems Go Way Beyond Its CEO
Dara Khosrowshahi seems eminently qualified for the big chair. He'll have to answer some tough questions.
By
Is this the beginning of a new Uber? On Sunday, the ride-hailing startup decided on a new chief executive officer. His name is Dara Khosrowshahi, and he's known for turning around Expedia Inc., the online travel agent. Khosrowshahi is also the only Uber CEO candidate whose name nobody on the company's sieve-like board of directors bothered to leak, amid weeks of uncertainty about the company's future.
Uber's board—which, because this is Uber, is currently suing itself—has reportedly broken into two factions. The traditional investor types, led by the venture capital firm Benchmark, preferred Meg Whitman of Hewlett Packard Enterprise Co. Those close to recently deposed Uber CEO Travis Kalanick had been pushing for Jeff Immelt, the former CEO of General Electric Co.
Khosrowshahi, an apparent compromise pick, seems pretty free of baggage compared with Immelt, whose tenure at GE was tainted by the company's role in the 2008 financial crisis. He also has an impressive record. At Expedia, he oversaw a sixfold increase in the company's value after spinning it off from IAC/InterActiveCorp in 2005. Whitman, meanwhile, has been finding herself outmatched by the guys who sell inkjet printers.
With all that in mind, Khosrowshahi's hiring seems smart. Yet I worry that Uber's board members are making the same mistake that got the company into this mess. They're pinning their hopes and something like $200 million on the extraordinary abilities of one person, when Uber Technologies Inc.'s problems are deeper than any CEO.
Last week, my colleague Eric Newcomer reported that the company lost $645 million last quarter after taking in $1.75 billion in "adjusted net revenue." The report has been greeted by most as a step in the right direction because Uber cut its losses by 9 percent from the previous quarter, but those numbers may not tell the whole story. The company appears to have leaked the data, and at the moment it doesn't have a chief financial officer.
And either way, the numbers aren't that encouraging. One reason for Uber's enormous deficits is that the company has invested aggressively in ancillary businesses. (Paging the flying car team.) Another reason: Uber's low fares still often don't cover the cost of the ride in many places where the company operates. Investors are essentially subsidizing rides while they wait for the company to get big enough to force out competitors and jack up prices.
Things haven't worked that way. Uber has recently surrendered to local rivals in China and Russia, and India may be next. Meanwhile, in the U.S., VCs have been more than willing to use their funds to subsidize customer trips on Lyft, helping force Uber to keep its margins nonexistent. Driverless cars were supposed to be Uber's way out of this trap, but we know how that turned out.
I expect Khosrowshahi will try some sort of cultural reform. Uber will likely intensify its efforts to rebrand as driver-friendly rather than predatory. With customers, it'll try to seem more woke, rather than whatever the opposite of woke is. The "anti-Travis Kalanick," however, won't end the board's headaches overnight. Benchmark has hinted at more damning, as-yet-undisclosed parts of the report on sexual harassment produced by former U.S. Attorney General Eric Holder. And the lawsuit between Benchmark and Kalanick continues, as does the lawsuit between Uber and Waymo LLC.
Moreover, one of the big lessons of Uber's growth and its more recent struggles is that it's a mistake to see companies through the narrow prisms of their leaders. A couple of weeks ago, I wrote about the hypocrisy in Benchmark's lawsuit against Kalanick, which presented the firm as the victim of a fraudulent CEO, even though Benchmark more or less ignored red flags at Uber for years. Kalanick may be amoral, but most of Uber's alleged sins were committed by mid-level managers, not the CEO.
Kalanick's allies have ignored the company's broader rot, too, instead arguing that Uber's biggest problem was the loss of the ex-CEO. In a letter to Uber's board released last week, the investor Shervin Pishevar cynically took advantage of Kalanick's mom's death to condemn Kalanick's opponents for cynically taking advantage of his mom's death. "It is an affront to her memory," he wrote, "that her passing should become the occasion for a secretive and personal assault on her son by those who, by sheer dint of his hard work and determination and that of his team, he has made wealthy beyond all their other investments."
Ick. Kalanick's loss aside, Pishevar's conception of Uber as something created by the "dint" of Kalanick's "hard work" isn't helpful. Uber is not, as many of Kalanick's supporters believe, a one-man show. And while it's possible that the choice of Uber's CEO will be the difference between Uber's success and failure, its ability to heal itself from missteps and ethical breaches will come down to the employees Khosrowshahi hires in the coming months and years. By the way, there are still plenty of good jobs available.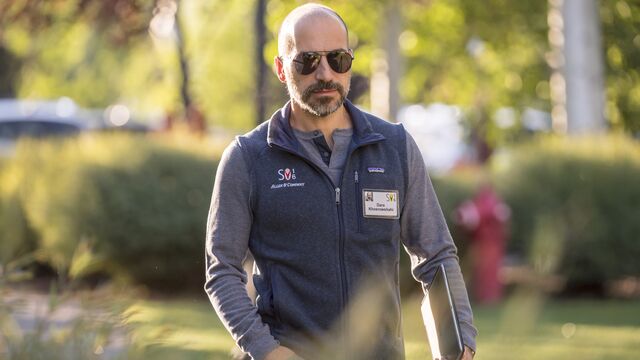 Before it's here, it's on the Bloomberg Terminal.
LEARN MORE